Lead stories

The Spokane office of the National Weather Service has issued a hazardous weather outlook calling for scattered thunderstorms and heavy rains throughout most of Eastern Washington, including Okanogan County,

WENATCHEE — More fire engines, air tankers and firefighters are being positioned this fire season in eastern Washington in preparation for fire season.

NESPELEM – Tribal voters will narrow the field of candidates for seven Colville Business Council positions during the primary election Saturday, May 7.

OKANOGAN — The Okanogan School District's proposed bond issue is going down to defeat, even though a majority of voters said yes to the $6.5 million measure.

RITZVILLE — For the second time this season, Okanogan claimed both the girls and boys' track titles in the same meet, this time at the Undeberg Invitational on Saturday, hosted by Lind-Ritzville High School.

OMAK — North Cascades Athletic Club recently added a CrossFit affiliate class to its slate of group exercise classes.
Current front page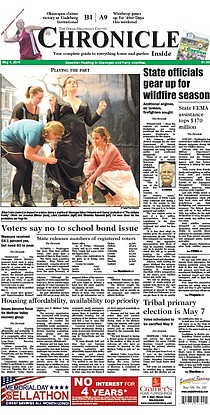 The Chronicle's e-Edition is our full print edition online ~ cover to cover! You get access to both the Wednesday and Sunday newspapers for a regular subscription price of $32/year. An ever-expanding database of past newspapers is fully searchable. Check it out today!