Lead stories

COULEE DAM - Lake Roosevelt Elementary School vice principal Nate Piturachsatit was booked into the Okanogan County Jail on Wednesday for possession of pornography depicting a minor, sexual exploitation of a minor and communication with a minor for immoral purposes.

Proposals are being sought for someone to take over the Enloe Dam powerhouse and adapt it for an alternative use, but there's no hurry to submit proposals.

It's a situation playing out in many communities across north central Washington. As employers pack up and leave town, how to fill empty businesses and attract tourism could become a regional crisis.

Sewing has changed a lot over the 30 years, with computerized machines requiring Needlelyn Time owner Lyn Hruska to keep on top of advances.
Current front page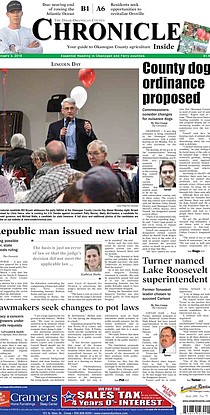 The Chronicle's e-Edition is our full print edition online ~ cover to cover! You get access to both the Wednesday and Sunday newspapers for a regular subscription price of $32/year. An ever-expanding database of past newspapers is fully searchable. Check it out today!
Photo gallery