Lead stories

Construction crews soon will raise a marquee sign for the new 12 Tribes Resort and Casino south of Omak off U.S. Highway 97.

More than 65 people turned out Thursday to give testimony before Okanogan County Hearing Examiner Dan Beardslee on the proposed vacation of Three Devils Road.

The structure fire was the second in three months in a Malott HUD home owned by the Colville tribe

Treats offered to first motorists to traverse Washington and Rainy passes this year.

Weather permitting, stargazers will be able to view a total lunar eclipse from start to finish early Saturday.

Fisheries close Tuesday on the upper Columbia River, tributaries
Events, economic development to be discussed

A meeting to discuss upcoming Ferry County community events and economic development projects is planned for 6 p.m. Thursday.

Construction crews soon will raise a marquee sign for the new 12 Tribes Resort and Casino south of Omak off U.S. Highway 97.

A webinar discussing ways to create jobs, improve local economy, add value to existing businesses and encourage new entrepreneurs is set for Friday.

The 21st annual Ferry County Conservation Fair is planned for 10 a.m. Saturday at the Ferry County Fairgrounds.
The Caribou Trail Orthopedics and Sports Medicine board will meet at 2 p.m. tomorrow at Mid-Valley Hospital.

Potluck dinner to be followed by business meeting

Four 1A teams remain undefeated in week 2 poll

Barrels, poles on tap in doubleheader
Opinion
The governor should've paid more attention to the significance of the Good Friday holiday. Had he done so, Olympia's flag flap could've been avoided.

Stopping rail shipments of crude oil and hazardous cargo is not a viable option. It is better to strengthen railroad beds, replace aging track and bridges, enact better safety standards, increase inspections, continue to train emergency responders and invest in new technology and modern equipment.

Here are the letters to the editor published in the April 8, 2015, print edition of The Omak-Okanogan County Chronicle.

We should not give teachers and students a "pass" for failing to meet minimum academic standards. And the state Office of the Superintendent of Public Instruction shouldn't be asking for a waiver, either.

Like the coffee vendor in the lobby of Trump Tower, they're not global business magnates, they're small business owners trying to make a living. Seattle politicians should treat them as such.

The bottom line, like it or not, is that Conconully needs every business it still has, regardless of who the proprietor is. That includes Conconully Lake Resort.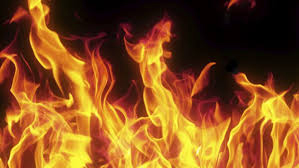 Fire central
Current front page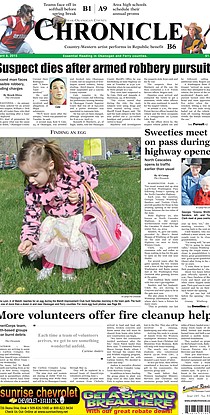 The Chronicle's e-Edition is our full print edition online ~ cover to cover! You get access to both the Wednesday and Sunday newspapers for a regular subscription price of $32/year. An ever-expanding database of past newspapers is fully searchable. Check it out today!
Photo gallery