Six months ago, the only thing I knew about Omak was that it hosted one of the largest annual rodeos in the state. But to me — and I know this could be considered a blasphemous statement around here — rodeos are mostly the same from one city to the next.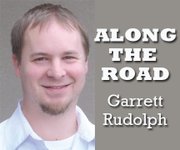 The events are all the same from one venue to the next. The competitors tend to hit nearly every Professional Rodeo Cowboys Association event in the entire region, so many of the names are familiar in different towns.
The "halftime" entertainers typically show off some unbelievable ability that no normal (or sane) human should even attempt. Patriotism always runs high, beer always flows cold and the air always wafts ripe of livestock.
From the perspective of a first-timer at the Omak Stampede, all of these rodeo stereotypes rang true. It wasn't anything more or less than what I expected.
But to me, what sets the Stampede apart from other events I've attended is the World-Famous Suicide Race. It's truly the signature event that puts Omak on the map.
And in that regard, I was not in the slightest bit disappointed.
It's 50 seconds worth of adrenaline and unlike any sporting event I've ever witnessed. Depending on your vantage point, the phrase "blink and you'll miss it" is not just a cliche, it's a reality as horses thunder down the steep incline of Suicide Hill and splash into the water in less than 10 seconds.
I expected the river swim to be the dull moment of the race, but the churning water, jockeys battling for position and fighting for space only add to the complexity of the race.
You can tell it takes a special type of horse to be a champion of the Suicide Race — not just fast, brave and reckless flying down the hill, but an accomplished swimmer, as well.
For a photographer, the event is both a dream and a nightmare rolled into one.
The opportunity for compelling pictures is obvious, but getting them is a different story. I watched all four races from four different vantage points this weekend. The entire time, I lamented the fact that the first three races are in pure darkness.
The first night, I didn't get a single usable frame. I snapped off three clicks as the horses stormed past me. Impeded by the darkness, each of my pictures was out of focus.
It wasn't until Sunday that the pictures would live up to expectations — and even then, it's a split second of action. Click the shutter and pray it turns out right. As Sports Editor Al Camp said, there will be a full year to think about how you'll improve your technique the next time around.
Garrett Rudolph is the managing editor of The Chronicle. He can be reached at 509-826-1110 or via email
at grudolph@omakchronicle.com.