The Okanogan River ties the communities of Oroville and Brewster — and all the towns in between — together.
Yet, it is the asset we all seem to have forgotten. The Okanogan Valley community does very little in the way of using the river as a way to improve our quality of life and strengthen our economy.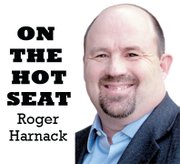 There are a couple opportunities we could consider.
One would be developing a mosquito control district stretching from Brewster on the south to near Zosel Dam in Oroville.
Another is developing a water-based trail system and related amenities, which could open the river for better public access.
I bring up the district first because of the commotion this spring — primarily in Omak and Okanogan — surrounding what seemed like a never-ending mosquito onslaught.
Residents in both cities complained extensively about how poorly the mosquito population was managed. But the mosquito issue affected more than just the town folk in just two cities.
Riverside was swarming, too, as were other towns.
A group has already formed to look at a mosquito control district for the Okanogan-to-Riverside area. But what about an expanded district that runs the length of the river in the county? Wouldn't all of our communities benefit from a combined skeeter spraying effort?
Of course, they will.
I'm sure it won't be cheap, but I'm positive an effective program will be worth the cost.
And once the river is a much more enjoyable place to be in the spring and early summer, more of us will recreate there.
With fewer mosquitoes, it stands to reason there'll be more fishermen, kayakers, rafters, etc.
So, we'll need to provide some better facilities along the river.
We could start with something simple — something like Penticton, B.C., has along its canal: stairs.
If you visit Penticton, you'll see numerous people on the canal between Okanagan and Skaha lakes. Along the way, there are a couple places canal-users are able to access the water easily. And they're not expensive boat launch and docking facilities.
In Penticton, there are a couple small launch and landing locations that consist of concrete stairs that lead from an adjacent road to the water.
To me, the stairs look like something out of ancient Egypt or Rome, but without the intricate columns and stonework. They are simple, yet effective, ways for water-goers to safely enter and exit the canal.
Similar to Penticton, during the summer months here, visitors and residents alike float the Okanogan River between Riverside and Okanogan. 
Some start in Riverside and end in Omak. Others start in Omak and finish in Okanogan. There are usually a few rafters on the water in the Tonasket area, too.
So, it would behoove us to have amenities along the river at least in those four communities.
We could start with something like Penticton's stairs, and eventually add some decent amenities for boaters, fishermen and Jet Skiers.
While the river is the thread that ties us together here, it also has the potential to be one of our greatest economic assets. But it only be an asset if we start to plan for safe and comfortable use.
Effective mosquito spraying and the construction of some basic launch and landing sites sound like a good place to start. And along the way, they'd improve our quality of life here as well.
Roger Harnack is the editor and publisher of The Chronicle. He can be reached at 509-826-1110 or via e-mail at rharnack@omakchronicle.com.