Fresh on the heels of the Warrior Stampede, which had a beer garden and live music on Friday night, comes the 11th annual Fremont Oktoberfest 5K in Seattle.
It's the ultimate beer run, with racers crossing the finish line at the Fremont Oktoberfest Village Beer Garden and toasting their victory with a refreshing beer included in registration (for racers 21 years of age or older).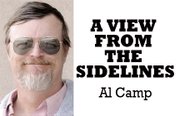 Runners may take the standard 5K route and run solo, or in true Fremont fashion, they can follow a path less traveled and join the unique Beer Belly Division or Team Division.
Men weighing over 220 pounds and women weighing over 175 pounds are eligible to compete in the Beer Belly Division and receive the unfair advantage of a head start, giving them the chance to be first to the finish line (and beer).
"We honor the most elite Oktoberfest athletes, those who have spent years indulging in Northwest microbrews, and who are sporting the much sought after beer belly," explains Creative Director Phil Megenhardt.
Runners can also compete with friends in the Team Division for multiple award categories: biggest team, fastest team (based on the four fastest runners) and best-dressed team.
"Hopefully you're friends with Usain Bolt and Lolo Jones!" jokes Megenhardt.
"You'll want to gather lots of your quickest friends and get them to dress up in their ridiculous banana costumes or traditional German dirndl to win all the awards."
Preregistration is $25 and includes a seasonal beer for racers 21 years of age or older, and a Fremont Oktoberfest 5K T-shirt (guaranteed with registration before Sept. 19).
More information can be found at FremontOktober
fest.com.
Chantel Heath, who has family ties to this region and played basketball at Reardan High School, looked great on a recent trip with an USA team in Australia.
She returned late last month as the MVP of her team called the Wildcats.
The team included players from New Mexico, Minnesota, Arizona and California.
"They took 50 girls and broke them up to make seven or eight teams," Chantel said.
The teams were split in two for pool play along with Australian teams.
"Our pool was definitely the hardest," the 5-7 point guard said.
The Top 3 teams were Australian teams while the Wildcats finished fifth.
Chantel, 18, who has family members from the Keller District of the Colville Indian Reservation, is attending Central Washington University this fall on a full-ride scholarship.
"They brought me here to be a point guard," Chantel said. "I have a pretty good shot at playing my first year."
Cristian Talavera of Brewster recently competed on the Spokane Shadow SSC Leonard soccer team in the Northwest Cup on Aug. 16-18 hosted by Spokane Soccer Club.
The Shadow, for U17 boys (age 16 and 17), opened with a 7-2 win over the Breakers. Talavera scored two goals and has two assists.
In the second game, Calgary Foothills '98 topped the Shadow, 5-1, with Talavera scoring his team's lone goal.
In game three, the Shadow edged the Spokane Shadow B96-Philp team, 2-1. Talavera scored a goal and had an assist.
In the final game, XIFA 2016 topped the Shadow, 3-1. Talavera scored the lone SSC goal.
The Shadow returns to regional club league play Sept. 7. The league is composed of the Top 20 teams in the state and is the highest competitive level of play for teams in Washington Youth Soccer.
Okanogan County was well represented at the Lake Chelan Junior Rodeo on Aug. 10.
In the little people division, Rocksie Timentwa of Omak finished first in poles, barrels and goats. Diesel Downey of Omak won dummy roping and mutton bustin'.
In peewee boys, Bryson Butterfly of Omak won calf riding, barrels and calf stake. Brier Selvidge of Malott won poles.
In peewee girls, Quincy Downey of Omak won poles. Lynda Rose Dietrich of Riverside won dummy roping.
In junior boys, Chantz Popelier of Okanogan won steer daubing and goats. Donovan Abrahamson of Okanogan won steer riding.
In junior girls, Abbigail Popelier of Omak won barrels and poles.
In intermediate boys, Wade Bruemmer of Malott won calf stake and steer daubing. Blake Rise of Oroville won chute dogging.
In intermediate girls, Sammie Walimaki of Oroville won cow riding and steer daubing.
In senior boys, Chance Stucker of Oroville won calf roping and steer wrestling. Chase Nigg of Oroville won bull riding.
In senior girls, Kaelyn Marchand of Omak won cow riding and goats.
In team roping, Chantz Popelier and Wade Bruemmer finished first.
Tyler Peasley of Omak took a beating in the Indian Relay Races at Kalispell, Mont., this past weekend.
Peasley crashed and broke a collarbone.
He underwent surgery Sunday and was back at work on Monday.
And if there was any doubt World-Famous Suicide Race jockeys are made out of tough cloth, check out Alex McCraigie.
McCraigie came down the hill Aug. 9 on Big, owned by Don Frazier.
A week later, McCraigie competed in the Warrior Stampede, running down the hill as part of the obstacle race on Friday night.
McCraigie, 22, finished eighth overall and fourth for those ages 19 to 35.
The Omak Community Center gym, 601 S. Benton St., will be closed for an annual floor finishing from Monday, Aug. 19, until Tuesday, Sept. 3.
Al Camp is the sports editor at
The Chronicle. Email him at sports@omakchronicle.com.