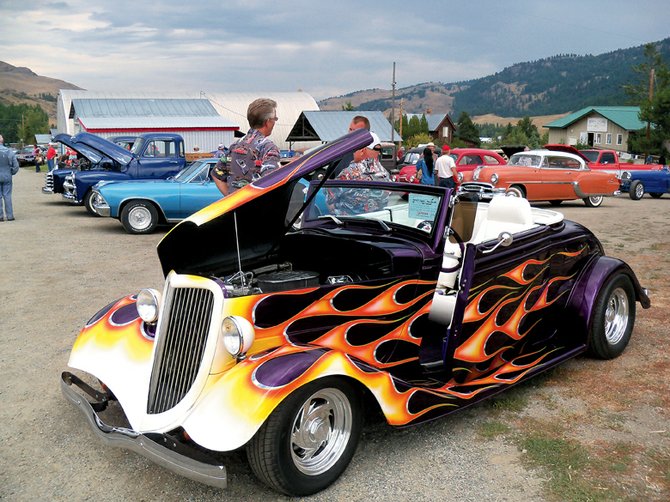 Photo by Garrett Rudolph
Tom and B.J. Carlton took home the Best of Show Award with this 1934 Ford at Chesaw's Hot August Nights on Saturday.
CHESAW — More than 30 vintage cars, trucks and tractors assembled Saturday under cloudy skies and an occasional sprinkling of rain for the fourth annual Hot Summer Nights show.
Turnout was "very disappointing," with about half the number of entrants and spectators as in past years, organizer Pauline Waits said.
She attributed the slim turnout to a competing car show at the Big R store in Omak. Those who did turn out found a swap meet, a couple yard sales and plenty of food on the barbecue.
Judges turned in the entry numbers of winners, but organizers didn't have a master list of entrants' names with numbers, Waits said.
Results
Best of show – No. 14, Tom and B.J. Carlton, Moses Lake, 1934 Ford Cabriolet.
1940 and older – No. 3, Graham and Penny Bennet, Keremeos, 1926 Ford.
1941-1959 – No. 28.
1960 and newer – No. 30.
Tractors – No. 10, Mark Fedderson, Havillah.
OMAK — Results for Big R's "Rock This Country" inaugural car show:
Stock or nearly so
1943 and older – Michael and Darlene Kelsey, 1936 Ford Coupe.
1944-1957 – Buck Sackman, 1956 Chevrolet Belair.
1958-1971 – Kerm McClellan, 1968 Pontiac Firebird.
1972-1985 – C.B. Hopkins, 1985 Buick Riviera.
Original unrestored, any vehicle – Bob DeHart, 1939 Cadillac LaSalle.
Modified or street rod, car or truck
1943 and older – Rick Gollgher, 1932 Chevrolet 5 Window Coupe.
1944-1988 – Dick Sweetman, 1955 Chevrolet Belair.
Unfinished or work in progress – Dennis Bishop, 1929 Ford Model A.
Special interest – Burley Bros. Restoration, 1959 Harler Panhead.
Trucks – Don Carlson, 1936 Chevrolet pickup.
Factory muscle car, original or restored – Dan Statler, 1967 Pontiac Firebird.
Rat Rod – Jeff Klimek, 1930 Ford.
Foreign – Dan Schultz, 2000 Porshe Boxster.
People's Choice Award – Dan Statler, 1967 Pontiac Firebird.
Judges' Choice Award – Michael and Darlene Kelsey, 1936 Ford.