State law generally prohibits public employees from lobbying for or against proposed laws while on duty.
So, I'm at a loss as to why the state Parks and Recreation Commission knowingly allowed one of its rangers to oppose the county's opening of a road outside his jurisdiction for all-terrain vehicle use.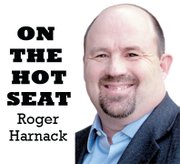 Specifically, I'm referring to Pearrygin Lake State Park Recreation Ranger Rick Lewis.
In the last couple of weeks, I've received numerous calls from readers about Lewis' presentation to the Okanogan County Commission in regard to opening East Chewuch Road for ATV use.
I've also received copies of letters chastizing the state commission for knowingly allowing a public employee to testify while on duty about an area outside his jurisdiction and outside the scope of his job.
For the record, let me say that public employees are allowed to testify in public hearings in uniform and while on the job, if the subject matter is within the scope of their responsibilities. Public employees are also allowed to "campaign," if you will, for and against issues dear to their hearts as a private resident.
I believe that's what Lewis was doing in that July 26 hearing — he was trying to let county commissioners know how he personally believes the change would affect Methow Valley residents and visitors.
The problem, however, came with his testifying in uniform. Area residents and our readers have perceived that action as attempting to use the weight of his position to influence the outcome of a political decision.
The state Parks and Recreation Commission should've seen that accusation coming.
I know, I know. Public employees quite often use their jobs or positions as an influencing factor in political debates.
Revised Code of Washington 42.52.180 specifically prohibits the use of public resources — including state employees during working hours — for promoting or opposing a "ballot measure."
And while the law doesn't specifically bar public employees from trying to influence laws going through other statutory processes, the intent of the law is clear — public employees should not be pushing their own or agency-directed political agendas at the expense of taxpayers.
As a resident who cares about what is happening in his community, Lewis should be commended for participating in the political process, particularly when his views are very different from many Okanogan County residents and visitors.
The state parks board, on the other hand, should be chastised for allowing a public employee to wade into a controversial matter while wearing a uniform paid for by Lewis' neighbors, many of which want the road open to ATV traffic.
In replying to at least one complaint about Lewis' participation, State Parks Operations Assistant Director Mike Sternback said the agency "remains neutral on the use of ATVs on public lands and roadways by other agencies."
That statement doesn't jive with the agency's decision allowing Lewis to testify in uniform.
As a county resident, I want our ATV-use process thoroughly vetted. But I don't want my tax dollars or public resources spent trying to influence the outcome.
Roger Harnack is the editor and publisher of The Chronicle. He can be reached at 509-826-1110 or via e-mail at rharnack@omakchronicle.com.