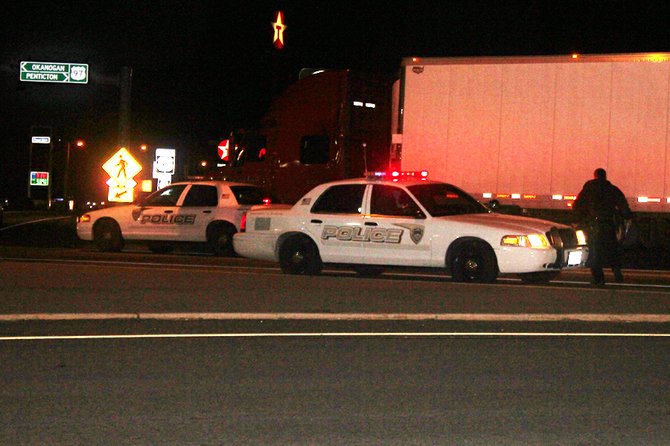 Photo by Roger Harnack
Omak police cars sit at the intersection of Engh Road and U.S. Highway 97 while officers investigate a crash in which another vehicle struck two teenagers crossing the highway.
OMAK — Two local boys were treated and released Tuesday from Mid-Valley Hospital after being hit by a vehicle on U.S. Highway 97 at the Engh Road intersection.
Kenneth L. George, 15, and Bret A. Stevens, 15, were struck by a vehicle driven by Kaitlin W. Keitzman, 18, of Omak, at about 7 p.m. Tuesday, according to a report by officer Darren Duncan of the Omak Police Department.
George and Keitzman suffered minor injuries and were transported to Mid-Valley Hospital, the report said.
Keitzman was northbound on U.S. Highway 97, near the intersection of Engh Road when the boys darted into her path, the report said.
Since Keitzman had a green light, the boys were at fault and cited for failing to yield to traffic, the report said.
Witnesses told police there was not enough time for Keitzman to stop and the boys were not in the crosswalk, the report said.
The crash dented the fender and broke the windshield of Keitzman's vehicle, the report said. Keitzman was not injured in the crash.
Police said neither alcohol nor drugs are believed to be factors in the incident.