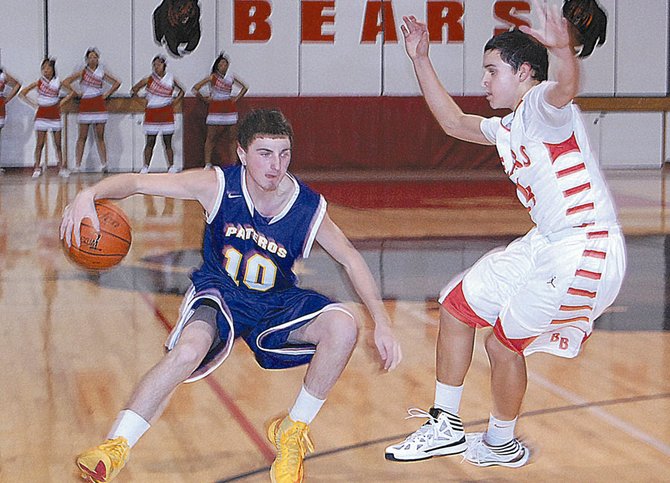 Photo by Jennifer Marshall
C.J. Wall, who lives in Mansfield and plays for Pateros, drives against Mitch Boesel of Brewster on Friday.
OMAK — The first week of winter sports is done, and several performances stood out.
Leading the way is the Republic girls basketball team, which plays in the Northeast 1B League.
The Tigers stayed close to 1A powerhouse Chelan before falling by three points.
True, Chelan was without leading scorer Abby Phelps, but you had to be impressed by the Tigers roar.
The Brewster and Okanogan girls clobbered opponents, which seems to indicate a couple big showdowns in the future.
The Bulldogs have looked exceptionally sharp under the boards, outrebounding Lake Roosevelt, 60-28, and Medical Lake, 48-25, last week.
If you want to mark your calendar, Okanogan is at Brewster on Jan. 7 and the Bears are at the Bulldogs in the next-to-last game of the season Feb. 4.
Both Brewster and Okanogan boys teams are looking strong, too, so a ticket will get you a great double-feature.
Curlew's boys team could do well, too, staying with Oroville until the fourth quarter.
On Monday night, the big Omak boys showed you won't be able to get a lot of shots in the paint.
The Pioneers blocked, knocked away and outright stole a bunch of balls against Pateros.
The Pateros girls showed they have the quickness to reach the state 1B tournament.
Tonasket's wrestling team finished second at the Omak Invitational on Saturday.
The Tigers won 8 of 11 matches for medals (two champs) and finished ahead of all attending Caribou Trail League teams including Chelan, which was fifth at state last year.
Warden, which tied with Tonasket for 11th at state last year, won the tournament.
There appear to be a lot of 182 pounders in the region when looking at the 2B and 1A ranks.
The 1A 220-pound class is exceptional, with Chelan's Asa Schwartz, who took first at state; Jerry Reyes, Warden, second at state; Jacob Cutrell, Omak, eighth at state; and John Rawley, Tonasket, a state participant.
The regional tournament should be a very tough test.