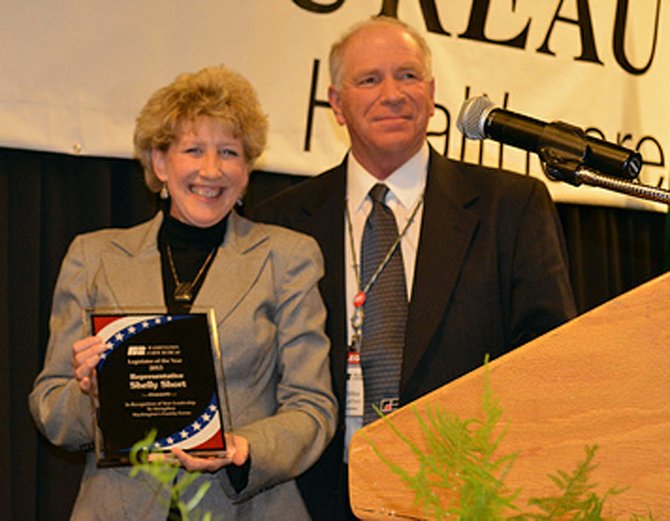 submitted
Rep. Shelly Short receives the Washington State Farm Bureau's 2013 Legislator of the Year Award from bureau President Mike LaPlant.
OLYMPIA — During a ceremony in November, Rep. Shelly Short received the 2013 Legislator of the Year Award by the Washington State Farm Bureau.
"It's an absolute honor to receive this recognition by the Washington Farm Bureau," said Short, R-Addy. "Ranchers, farmers and orchardists make up a significant part of our economy in Central and Eastern Washington, and especially the 7th Legislative District. With much of Olympia being dominated by urban, Puget Sound interests, the need to constantly educate my fellow legislators on the needs of our rural agriculture-based economy is paramount."
Short serves as the ranking Republican on the House Environment Committee.
During the 2013 regular session, she introduced legislation to increase accountability and transparency within the departments of Ecology, and Fish and Wildlife. Her bills require the agencies to identify the peer-reviewed science specifically, scientific literature and other sources of information reviewed and ultimately relied upon before taking significant agency action related to certain agency programs.
Both bills were signed into law after several years of research and educating fellow legislators.
Short is the fourth different 7th District legislator to win the award in the past 16 years.
Rep. Joel Kretz won the award in 2009 and 2007; Sen. Bob Morton won in 2000; and Rep. Cathy McMorris Rodgers won in 1997.
"Joining this list of area legislators who've received this award in the past is humbling," Short said. "However, there is more work to be done to continue to ensure our region remains the best place in the state and nation to live, work and raise a family."