It's that time of year again, when we shop for presents, load up the refrigerator and put up Christmas trees.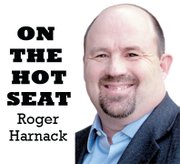 We go to church, proclaim our good will toward each other and wish everybody we meet a Merry Christmas.
But the holidays aren't always merry. If you open your eyes when you drive through Omak, you'll see what I mean.
Each week, there's a line at the Omak Food Bank. Each week, a group of volunteers posts a "free food" sign along Riverside Drive and hands out staples to hungry residents stopping in the Cornerstone Christian Fellowship church parking lot.
And at the grocery store, you're quite often checking out next to someone buying food on an Electronic Benefits Transfer card issued to those living below the state's poverty threshold.
For those who have regular employment, it's all too easy to overlook friends and neighbors who cannot afford expensive electronics, ham and turkey family dinners or even the little comforts of having new socks and fresh toothpaste.
As Eastern Washington residents, we pride ourselves on "taking care of our own." But can you think of the last time you personally helped someone out, someone in need?
Never fear.
There's always need in our small corner of the world. And there are numerous efforts under way to help make Christmas merry for a struggling family.
You don't necessarily have to go any further than your nearest street corner to help out.
Santa Claus Don Burford and his elf Chandra Burford will be in many Omak and Okanogan neighborhoods this week.
While they'll be handing out candy to youngsters wanting to tell Santa how good they've been, local chambers of commerce elves will be accepting non-perishable items for donation to area food banks.
Last year, two pickup truckloads of food were collected and given to area food banks for distribution to hungry residents while Santa visited with children.
This week, listen for fire sirens heralding Santa's arrival in a neighborhood near you Tuesday, Wednesday and Thursday nights.
Want to do a little more? There are giving trees located at The Chronicle and North Cascades Bank. Just stop in an pull a tag from a Christmas tree to see what a local child or family needs. Bring your gifts back and put them under the tree to make Christmas merry for a family in need.
Then there's the Omak-Okanogan Community Christmas Basket program. Toys, clothing and food donations are being accepted Dec. 16-20 at the fairgrounds.
In Twisp, the Neighbors Helping Neighbors food basket program is also collecting supplies to help feed and clothe 125 needy families in the Methow Valley.
And let's not forget those in the Okanogan County Jail, where inmates appreciate things like socks, T-shirts, thermal underwear, games, books and more.
Want to help out, but find yourself in a difficult financial situation yourself? You can still help by volunteering your time. Take it from me, it's time well-spent.
There are too many programs serving needy families in Okanogan and Ferry counties to name them all. But I'm confident you know already know a couple that hit close to your home.
If not, give us a call at The Chronicle — 509-826-1110 — and we'll help connect you.
Roger Harnack is the editor and publisher of The Chronicle. He can be reached at 509-826-1110 or via email
at rharnack@omakchronicle.com.