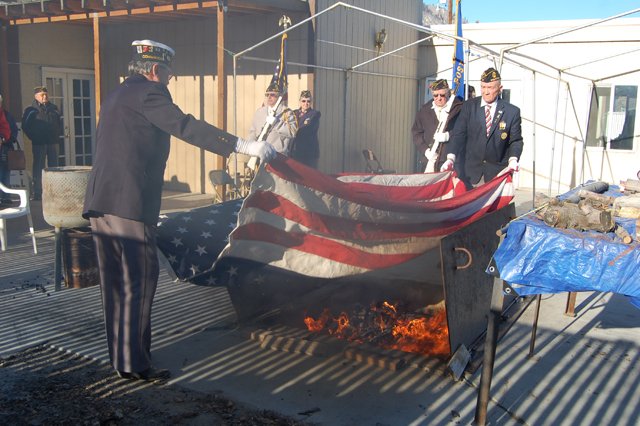 Photo by Jennifer Marshall
American Legion District 9 Commander Denny Pittman, left, and Columbia Post 97 member George Pearson, far right, lower a retired American flag over a fire Saturday at the Legion Hall, 102 N. Third St., Brewster. In the background, from left to right, are fellow Legion members Walt Peckham, Gale Nilsen, Sherilyn Jacobson and Ray Davis. Photo by Jennifer Marshall.
BREWSTER — As other communities bustled with holiday events over the weekend, two American Legion posts observed a more somber occasion Saturday: the 72nd anniversary of the Pearl Harbor attack.
Several Legion members from Post 97 in Brewster and Post 218 in Bridgeport hosted an annual ritual that involved some readings and officially retiring three worn, well-used American flags.
The ceremony is a tradition spanning at least 30 years, according to Chaplain Mike Saint.
"As long as I've been a member," he said.
The veterans placed a wreath in front of the memorial outside of the Legion Hall, 102 N. Third St., and performed a gun salute.
District 9 Commander Denny Pittman played "Taps" on the trumpet while the Honor Guard, including World War II veteran Walt Peckham of Bridgeport, saluted the half-mast flags.
The flags were quietly burned in a retirement ceremony behind the hall.
Other participants included Gale Nilsen, Ray Davis, George Pearson, Neil Jacobson, Sherilyn Jacobson and Lee Wood.