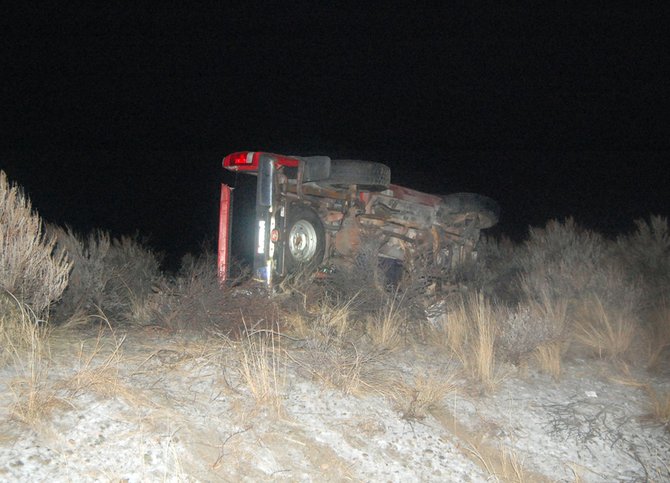 Photo by Jennifer Marshall
This truck overturned Monday night when sudden snow showers caused slippery driving conditions. Jennifer Marshall.
MALOTT — Sudden snow showers and below-freezing temperatures in south Okanogan County resulted in multiple collisions Monday afternoon on the same stretch of U.S. Highway 97.
The first call was shortly before 4:30 p.m. A woman driving a truck southbound attempted to pass another vehicle and lost control, a Washington State Patrol report said. Her truck overturned and came to rest on its side on the southbound shoulder. The driver was temporarily trapped in her vehicle.
"She hit this patch of snow and ice and lost control, started rotating and flipped and hit the top of the hillside there," Washington State Patrol Sgt. Clint Thomas said.
He declined to release the woman's name at the scene of the crash.
The woman was cited for driving too fast for the conditions.
There were a couple collisions near where the woman crashed, but they were "pretty minor," such as cars skidding into ditches, Thomas said.
No serious injuries were reported, and there was one complaint of a sore arm, he said.
"They were pretty fortunate," Thomas said. "Down here, it came below freezing pretty quickly. I think it caught people off guard."
A tow truck showed up to take away the woman's vehicle at around 5:30 p.m., after ambulances and the other crashed vehicles had cleared the scene.
Thomas issued a warning to drivers to be more cautious.
"Be aware when it's getting colder and you see ice and slush on the ground. Be careful," he said.