Will we have a white Christmas in the Okanogan Valley?
Well, that's up to Mother Nature and, frankly, I don't really care. As of Friday, when I wrote this, we had a little bit of snow and it was still falling, but the jury was still out for Christmas Day.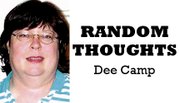 I remember singing "White Christmas" as a child and wishing we could have snow for the holiday.
On the wet side of Washington, we mostly had rain for Christmas, or maybe just dreary gray skies.
It must have snowed a few times for the holidays, but I really don't remember specifics.
Christmas was more about spending time with family, eating a lot of cookies and other goodies, and finding out what was in all those presents under the tree.
We didn't have a fireplace, so there wasn't much point in putting up stockings for Santa. I grew up in a pretty practical household, so the jolly ol' elf didn't pay those overnight visits.
We did, however, have a tradition of reading "The Night Before Christmas" on Christmas Eve. We still do that.
I think the most fun on Christmas morning was opening the boxes that came from my mother's sisters in Pennsylvania.
Those boxes would be filled with handmade goodies – a knitted hat or scarf, some sort of craft item – and special foods we couldn't get.
That usually meant a big bag of shelled black walnuts from a tree in someone's yard and a huge block of white chocolate.
Back then, white chocolate wasn't a common item on grocery store shelves like it is now. We'd chip away at it slowly, trying to make it last as long as possible.
I'm not a walnut fan, but I could tell my mother was. She'd pop a couple in her mouth, close her eyes and chew slowly, blissfully. She'd marvel at all the work her sister did to produce that bag of shelled nuts.
I think she missed that part of living in Pennsylvania.
My grandma in Idaho also would send packages containing homemade items. Most often it was something knitted or crocheted.
Later on in the day, we'd often take plates of cookies or other homemade gifts to neighbors. Sometimes an older gentleman, a widower friend of my parents, would come for dinner.
It was all pretty low-key, but full of love, warmth and generosity.
Here's hoping you're having a similarly wonderful Christmas this year, with plenty of good memories in the making.
Dee Camp is a reporter at The Chronicle. She can be reached via email at dcamp@omakchronicle.com.