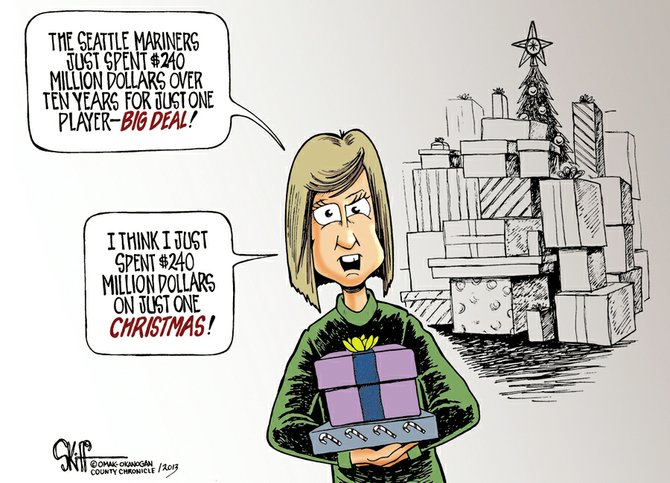 Masons 'rock' for foster families
This being our first year as foster parents, it has been quite a challenge for our family in every way. Often children arrive to foster homes with only the clothing that they are wearing at the time.
One of our greatest highlights this Christmas season was a Christmas party hosted by the Okanogan Masons and Department of Social and Health Services of Omak.
The Mason reception hall was entirely full of foster parents and children of our community.
A pizza dinner, along with cake and other refreshments, were served, followed by a visit from Santa Claus. Many wrapped Christmas presents were given by Santa to every child in attendance.
Mason men and other volunteers hosted this event free of charge to local foster families. It is my understanding the Okanogan Masons have been doing this for many years in the past.
Kudos and blessings to this wonderful organization that obviously cares so deeply for children in our community. Everyone in attendance had a great time and it was a special, fun evening for all.
Driving home that evening, our 6-year-old said "those guys in those hats rock."
I have to agree.
We appreciate the Okanogan Masons for their devotion to children, foster parents and our community.
Tami LaMotte, Omak
Money woes should halt easements
With all this recent talk, I couldn't help but research the source of funds for the conservation easement everyone is talking about.
What I found was that Landowner Incentive Program funds are a congressional appropriation passed to the fish and wildlife departments of various states via the U.S. Fish and Wildlife Service.
Additional funding comes from state Department of Fish and Wildlife public land swaps and sales. I read archived Fish and Wildlife meeting minutes, where one particular land owner (and there are apparently many more) was paid about $965,000 for a portion of land he purchased.
There was no mention of any private funding donated to this purchase. So, it appears, we the taxpayers bought a large portion of this individual's property, plus an additional tract of abutting lands added (via conservation easement) at a later date.
With all the angst about conservation easements, the Department of Fish and Wildlife continues to buy private lands at inflated prices for salmon and deer habitat all in the guise of species enhancement. Maybe you haven't heard, "We the taxpayers are broke!"
Our Legislature continues to spend more than it takes in annually, yet we continue to purchase private hunting clubs for the wealthy. And still some think we owe them our gratitude. Federal and state funds are public funds, therefore these lands should be accessible to the citizens.
So give the public access to all the conservation easement lands they bought and we can talk about gratitude.
Until we can balance a budget and pay for essential services without a deficit, conservation easements should be the last thing to spend our money on. Write or call your representatives and just say no.
John Herzog, Tonasket
Letters to the editor policy
The Chronicle accepts letters to the editor of 250 words or less. Letters must bear the signature and hometown of the writer and a daytime telephone number.


Letters with multiple signatures or sent to multiple publications will not be considered. Letters may not include personal attacks or thank you messages. Letters are subject to editing.
Publication does not imply agreement or endorsement by The Chronicle. Letters may be mailed to The Omak-Okanogan County Chronicle, Attn. : Letter to the Editor, P.O. Box 553, Omak, WA 98841; dropped off at The Chronicle office, 618 Okoma Drive, Omak; faxed to 509-826-5819, or e-mailed to news@omak chronicle.com.