Great winter fishing awaits on several Colville tribal lakes following stocking this past year.
The tribe stocked more than 380,000 trout in reservation lakes and streams, a Dec. 16 announcement said.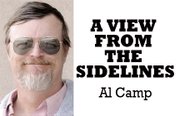 The fish came from the tribe's hatchery near Bridgeport, which raises Lahontan cutthroat, eastern brook and triploid rainbow trout.
Numbers include 146,800 trout in north and south Twin lakes and more than 70,000 rainbow trout (triploids averaging one to two-plus pounds) released into Lake Rufus Woods.
Buffalo Lake was planted with almost 23,000 triploid rainbow trout and Omak Lake was planted with more than 108,000 Lahontan cutthroat trout.
The Resident Fish Program purchases approximately 2,000 to 3,000 triploid rainbow trout from the local aquaculture facility with an average weight of two pounds or more for release into Rufus Woods, spokeswoman Michelle Campobasso said.
"This supplementation effort augments the smaller sizes of trout released by the tribes' Net Pen Program with larger trout raised by the aquaculture facility," she said.
"There will be some phenomenal ice fishing opportunities this season at Owhi (tribal only), Buffalo, Summit and Twin Lakes," said Jill Phillips, hatchery manager. "The hatchery out-planted some large three-pound triploid rainbow trout recently in Buffalo Lake, so anglers should use their augers to cut a larger hole in the ice this year.
Fishing for naturally reproducing kokanee in Buffalo could also be good, she said. "And don't forget about North and South Twin; this is the time of year to target the brook trout."
Colville tribal members fishing on the reservation must possess a Colville tribal identification card, which is a legal permit to fish.
All non-members who are fishing on select interior waters of the reservation must have a tribal license.
Non-members who will be fishing on Buffalo, Summit and Twin lakes during the winter fishing season (Jan. 1 to March 15) must also have a winter fishing permit in addition to a valid one-, three- or seven-day passes or seasonal Colville Indian fishing permit.
Fees and senior discounted rates are online at www.colvilletribes.com .
Fishing permits can be purchased at the Nespelem, Omak, and Inchelium Colville Tribe Fish and Wildlife offices and at the Chief Joseph Hatchery near Bridgeport.
The Colville tribes' Resident Fisheries staff recently completed the second year of a three-year contract with Grant County Public Utility District to conduct monitoring and evaluating components of its white sturgeon management plan.
"Additionally, we have completed the first year of a four-year contract with Douglas County PUD to capture white sturgeon larvae produced in the wild for stocking into Wells Reservoir as required under their FERC license," said Jason McLellan, resident fisheries biologist for the Colville tribe.
White sturgeon are the largest and longest living freshwater fish in North America. They can weigh more than 1,500 pounds, reach 20 feet in length and live for more than 100 years.
There are an estimated 3,000 white sturgeon from Hugh Keenleyside Dam in British Columbia to Grand Coulee Dam, according to uppercolumbiasturgeon.org website.
Hydro systems and contaminants are being investigated for their part in the fish not surviving past early life stages.
Omak is ranked No. 3 in a preseason wrestling poll posted earlier this month by Washington Wrestling Report.
The rankings, which are based on how wrestlers did the previous year, found Granger at No. 1 with 122 points.
Other Caribou Trail League teams with points in the poll include Cashmere 54, Chelan 50 and Tonasket 45.
The Spartan are followed by No. 2 Castle Rock (86), Omak (85) and Quincy (80).
The CTL is loaded at 152, if all of the expected wrestlers compete.
The report listed Carter Bushman of Quincy at No. 1, Sammy Trudeau of Omak at No. 2 and Brock Steele of Cashmere at No. 3.
Top area wrestlers by weight (how they did last year at state; sp=state participant):
106 – 12, Victor Salgado, junior, Quincy (sp).
113 – 3, Brandon Medina, senior, Brewster (6th); 4, Tony Klepec, sophomore, Okanogan (8th).
120 – 2, Collin Aitcheson, senior, Tonasket (5th).
126 – 4, Jorge Juarez, sophomore, Tonasket (6th); 11, Julio Vera, senior, Chelan (sp).
132 – 4, Ethan Visser, senior, Cashmere (6th); 11, Raf Varelas, junior, Brewster (sp).
138 – 1, Alex Aguilar, junior, Omak (3rd); 3, Jacob James, senior, Cashmere (7th); 8, Chris Truini, senior, Chelan; 10, Colton Colwell, senior, Cashmere.
145 – 5, Isias Jimenez, senior, Quincy (4th); 9, Juan Garcia, junior, Chelan (sp).
152 – 1, Carter Bushman, senior, Quincy (4th); 2, Sammy Trudeaux, senior, Omak (6th); 3, Brock Steele, senior, Cashmere (sp).
160 – 1, Antonio Melendez, senior, Quincy (3rd); 6, Andy Vargas, junior, Quincy (sp); 7, Caleb Riggle, senior, Omak (sp); 12, Fernando Gonzalez, senior, Cascade.
170 – 3, Cody Harvill, senior, Omak (5th); 5, Bobby Anderson, senior, Chelan (7th).
182 – 11, Cade Wallace, junior Quincy.
195 – 6, Jacob Cutrell, senior, Omak (8th); 8, John Rawley, senior, Tonasket (sp); 11, Josh Hanley, junior, Cascade (sp).
220 – 1, Asa Schwartz, senior, Chelan (1st); 6, Adrian Urias, senior, Brewster (sp); 10, Bernardo Maraville, junior, Cascade; 12, Ian Allen, junior, Quincy.
285 – 12, Tanner Good, senior, Tonasket.
The Associated Press voted Okanogan High School's Justin Rivas to the state football second team on defense Dec. 19.
Rivas, a senior, was named to the special teams as an all-purpose/returner.
"Justin is an excellent punt returner," Okanogan coach Erick Judd said. "His combination of speed and quickness is really special and fun to watch."
Rivas and Enrique Vargas were nominated to play in the all-state game next summer. Voting will take place the second week in January.
1A co-players of the year were Markus Goldbach of Freeman, and Brady Widner of Zillah.
Dylan Hartz of Lind-Ritzville/Sprague was the 2B Player of the Year.
Josiah Greene of Neah Bay won the honor of 1B Player of the Year.
A seventh- and eighth-grade AAU basketball tournament is planned for 9 a.m. to 5 p.m. Saturday at the Omak Community Center, 601 S. Benton St.
"We are trying to get some things going in this area for local AAU teams and youth events," organizer Codi Marchand said.
Al Camp is the sports editor for The Chronicle. Email him at sports@omakchronicle.com.