Merry Christmas.
There, I said it. I didn't wish you happy holidays or a joyful Kwanzaa. I wished you a Merry Christmas. After all, the holiday predominately celebrated in North America and Europe this time of year is just that, Christmas.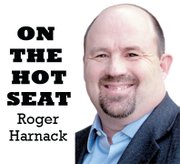 I'm tired of all the political-correctness trying to strip Christmas from our public vocabulary.
Whether you're Christian or not, Dec. 25 is a celebration of the birth of Jesus Christ. If you're Jewish, atheist, Muslim, Hindu or have a different religious affiliation, you don't have to celebrate Christmas. But you need not be offended when someone wishes you "Merry Christmas" – they are just wishing you happiness and good fortune. That should be uplifting to everyone.
Here in North-Central Washington, the majority of residents celebrate Christmas. And I'm proud to be among the residents who are standing up to the ridiculous political correctness.
There are signs that the nation may be starting to stem the tide of political correctness relating to Christmas.
Major retailers Gap and Old Navy have tossed aside political correctness this year. In a letter last month from their parent corporation's Vice President for Global Corporate Affairs Bill Chandler, the company affirmed the retailers' return to Christmas rather than a generic holiday.
And who here can forget the Capitol Christmas Tree National Tour making stops in Republic and Wenatchee. That tour didn't take a holiday tree from the Colville National Forest to Washington, D.C., via Ferry and Okanogan counties.
It transported an 88-foot Christmas tree currently on display on the Capitol Mall in our nation's capitol.
Locally, the war on Christmas never really took hold. Residents have always wished each other "Merry Christmas." I suspect they will continue to do so without hesitation, hopefully for centuries to come.
Local retailers, too, are still wishing their customers "Merry Christmas."
In fact, Big R – a regional retailer – happily assisted chambers of commerce to bring a sleigh bearing "Merry Christmas" to children throughout the Omak and Okanogan areas.
The battle over political correctness isn't over, not yet. And you don't have to look any further than the controversy over "Duck Dynasty" to see the war of words raging.
If you hadn't heard, one of the stars of the hit reality TV series was removed because he made anti-gay statements based on his religious beliefs. Of course, the political correctness police took the statement out of context to try and force conformity. That's not something that would work around here.
So in the spirit of bucking the political correctness police, I say again Merry Christmas.
Roger Harnack is the editor and publisher of The Chronicle. He can be reached at 509-826-1110 or via e-mail at rharnack@omakchronicle.com.