A thick bad-luck cloud thundered across the state, raining down inexplicable sports losses last weekend.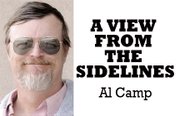 The Seattle Seahawks, Eastern Washington and Washington State football teams and Gonzaga basketball team all saw near victories snatched away faster than Dorothy in a tornado in "The Wizard of Oz."
The Seahawks fell late to Arizona, 17-10, following a couple questionable reviews by officials that stayed in the Cardinals' favor last Sunday.
It's as if Al Capp's Joe Btfsplk (the world's worst jinx; last named pronounced like a "Bronx cheer") walked past the review station on an already overcast day, hailing on what should have been the Hawks' parade for home field advantage during the NFL playoffs.
If you remember, Btfsplk walked around with a perpetual dark rain cloud a foot over his head. Once he appears on any scene, dreadfully bad luck befalls anyone in his vicinity.
So when the field judge stepped back on the field following the last review of a turnover where the ball appeared to us mere mortals to have struck the ground, he looked ever so much like Btfsplk.
I swear I heard him say, "On further review, the Seahawks couged this game and don't deserve to win."
"There's some stuff that we certainly feel like griping about," Seahawk coach Pete Carroll said after the game. "But it isn't going to do us any good, so we're not going to."
In Cheney on Dec. 21, where snow replaced rain, Btfsplk went by the name of Towson University's backup quarterback, sophomore Connor Frazier.
Frazier splattered Eastern Washington University in the Football Championship Subdivision semifinal after replacing injured starter Peter Athens in the second half.
The Eagles led by 10 when Frazier strode onto the red turf and willed the Tigers to a score.
I am quite sure the snow-filled clouds over Roos Field didn't part when the Eagles failed to convert on fourth-and-2 at Towson's 29.
That left Frazier with 1:35 on the clock. The unknown signal caller scored on an aptly named sneak with 17 seconds to go and sent a collective gasp through the pro-Eagle crowd.
This is the second straight year that Eastern fell under a cloud and lost in an FCS semifinal game.
Last year the Eagles' wings were clipped, 45-42, by Sam Houston State, although in that game Eastern spotted the Bearkats a 35-0 head start.
This year Eastern came back from a 21-0 deficit to lead, 31-21.
The same day as the Eagles were tamed, Washington State fans surely threw a few choice "raspberries" toward the field at the Gildan New Mexico Bowl following Wazzu showing it's the champ at couging away a victory.
The Cougars led by 15 with three minutes to play. WSU coughed up a fur-ball (fumble) twice in the final minutes to lose 48-45 against Colorado State University.
The Rams trailed 45-37 with 1:51 left and without timeouts. They scored 11 points, including a field goal as time expired following the recovery of the second fumble on a WSU kickoff return.
Cougar coach Mike Leach sounded a bit like Porky Pig, reiterating why his team should remain aggressive late. We all know Porky often fell under the Btfsplk malarkey spell.
"I just think we could have selected things better," Leach said about questionable play calling late. "Thing is, we should have thrown it, attacked them and got first downs."
Radio announcer Bob Robinson, with WSU up eight with 2:10 remaining, broadcast that the Cougs should take a knee three times late, running out the clock nearly so and preserving the win.
"We shouldn't have messed with any of that," Leach said after the loss. "OK, fine, use the clock. We should have attacked them and got first downs, and then we should have protected the football."
uuuuu
Gonzaga on Dec. 21 went down in more ways than one in falling 72-62 to Kansas State in Wichita, Kan. The previously 21st-ranked Bulldogs (10-2) could muster but two points during an eight-minute span late in the fourth quarter against K-State.
When it rains it pours – the Zags appear to have lost center Sam Dower, the team's second leading scorer (14.6 points per game), to a back or hip injury.
"I liked how we fought through adversity when we lost a very important guy to us," Few said. "We took the lead there for a little bit in the second half, but we just couldn't get enough stops. We couldn't make enough plays on offense to get over the hump."
Let's hope Joe Btfsplk didn't rain on your holiday, and stays away from Washington state teams from all of 2014.
Al Camp is the sports editor at
The Chronicle. Email him at sports@omakchronicle.com.