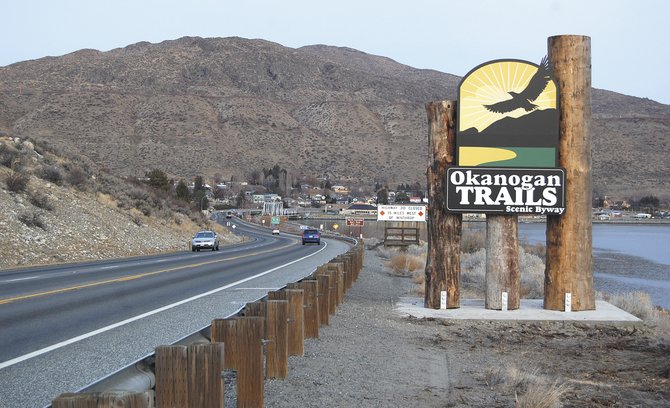 Photo by Jennifer Marshall
A new sign leading into Pateros beckons drivers to follow the Okanogan Trails Scenic Byway along U.S. Highway 97 to Oroville.
PATEROS — A new sign leading into town beckons drivers to follow the Okanogan Trails Scenic Byway along U.S. Highway 97 to Oroville, a project that has been in the works since 2006.
"We're really happy to get to the end of that part, but it's not the end," Oroville Community Development Director Chris Branch said. "It's really kind of the beginning."
Branch has been heading up the local scenic byway effort.
The byway was designated in 2004 by the state, and two years later the North-Central Washington Resource Conservation and Development Council secured national grant funding to get to work.
The byway can be used by local cities and businesses as a tool for tourism, Branch said.
"They have quite an advantage to be able to take advantage of this, because it's kind of free marketing thing for now," he said. "People travel around the U.S. and look for scenic byways as their routes, because they know they're special."
The 80-mile byway joins two others in Okanogan County – the Coulee Corridor, which runs along state Highways 17 and 155 between Othello and Omak; and the Cascade Loop, which starts on state Highway 153 in the Methow Valley and extends over state Highway 20 to Puget Sound and loops back around on highways 525, 526, 2 and 97A.
"The businesses that see this happening would be really wise to take advantage of it," Branch said. "There's a lot of businesses in these smaller towns that aren't highly dependent on tourism, but… the communities themselves may not be able to support some of those businesses, such as restaurants, certainly hotels."
In Oroville, for instance, "those restaurants, if they have to depend on just the residents there, they're not going to stay open," he said.
New state scenic byway maps are being printed and smaller way-finding signs have been posted along the entire route, Branch said. A corridor management plan makes note of historical sites along the way.
"The Okanogan Trails name is really about historical trails – the Caribou Trail that was used to access the places up in Canada for mining, that kind of thing," he said. "That's where the name comes from, the old trails that people used to follow up through here – the present ones, and then the future ones that we hope to see develop for both the residents and the tourists."
Branch said some trails, such as Similkameen and Whistler Canyon near Oroville, are uniquely accessible directly from the highway.
Grants didn't cover the entire cost of the project, so each town and city in the county was asked to kick in some of their hotel-motel tourism dollars.
"I thought that was really good and kind of a wonderful thing to kind of unify the communities on this byway," Branch said. "They'll be all happy to see it done, and I think they'll feel that it was money well spent."
The large signs leading into Pateros and Oroville are both high-pressure laminated signs, designed to be low-maintenance and long-lasting, Branch said. They're each held upright by three logs, all procured locally.
A celebration for the newly completed byway project is planned for this spring.