Every day seems to have a special name attached to it.
Aside from the obvious ones — Mother's Day, Father's Day, Boxing Day and so on — there are the obscure, yet mostly for-fun ones such as Hot Dog Day (July 23), Talk Like a Pirate Day (Sept. 19) and National Strawberry Sundae Day. (Did you celebrate? It was July 7.)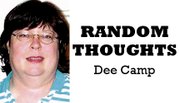 Then I stumbled across the weary gardener's Holy Grail of days: Sneak Some Zucchini onto Your Neighbor's Porch Day.
It's coming up on Aug. 8, so there's still time to cultivate a Zeppelin-sized squash or maybe even to plant some, if you haven't yet put in a garden but still want to get even with a neighbor. Er, I mean give someone the gift of zucchini.
Zucchini is the summertime equivalent of fruitcake. It's the kind of food the recipient feigns gratitude at getting but in reality is smiling through gritted teeth.
I'm not sure I understand how zucchini acquired such status. I've always liked zucchini.
My mom used to dunk slices of it in a pancake-like batter and fry them to a golden crisp.
And zucchini bread … need I say more?
Later, after I grew up and moved to Okanogan, we had a garden behind our house. We raised the usual stuff — tomatoes, lettuce, corn, cucumbers, broccoli, peas, pumpkins and, one year, watermelon and cantaloupe.
And zucchini. Mass quantities of zucchini.
How is it that a finger-sized zucchini can morph into a two-foot-long green club overnight? How is it two plants can boot out enough zucchini to feed a Third World country?
I hated the thought of tossing out food, so I did what any self-respecting zucchini farmer does.
I took them to work. I made loaf after loaf of zucchini bread. I sliced it, dunked it in batter and fried it.
I fried it, unbattered, with tomatoes and sprinkled cheddar cheese on top. We had cubed zucchini in omelets.
Then I got desperate.
After I'd grated, bagged, labeled and frozen all the zucchini the freezer could hold (for zucchini bread the following winter, I reasoned), I started thumbing through recipe books for any recipe that could be adapted for zucchini.
I made mock pineapple, with chopped zucchini and pineapple juice. I made "zickles" and zucchini relish. I grated it into spaghetti sauce and dusted off my mom's zucchini cake recipe.
Then, in a stroke of brilliance, I peeled and seeded part of a large one, pureed it in the blender and used it instead of milk in a cream pie. The result tasted just fine, and was low-cal to boot.
Many other people suffer from zucchini overload. A couple years after the cream pie episode, I bought a zucchini cookbook. Yes, a good-sized book devoted solely to zucchini.
People sometimes get so desperate to unload their garden's zucchini bounty that I've seen squashes spread out on lawns or small tables accompanied by "free" signs scrawled in black marker on cardboard.
When I heard about zucchini Sneak day, I was skeptical so I did the obvious — I Googled it and found 22,500 references. There's even a Facebook page on the subject.
Beware, someone near you may be plotting a squash-and-dash.
Dee Camp is a reporter at The Chronicle. She can be reached via email at dcamp@omakchronicle.com.