Last week proved very satisfying on the rodeo circuit for former Grand Coulee resident Shane Proctor.
Proctor, who now lives in Troutman, N.C., won the bullriding and all-around titles at the Cody Stampede, which ended Thursday in Wyoming.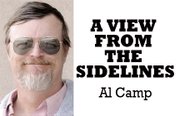 Proctor, who lived in Cody for three years while attending Northwest College in nearby Powell, scored 93 points to win the bullriding.
He also competed in saddle bronc riding, which allowed him to take the all-around crown and $8,835.
Proctor turned around and won the all-around and bullriding titles at the St. Paul, Ore., rodeo that finished Saturday.
Proctor scored an 88 to win and $9,411.
The 2011 world champion bull rider is 18th in the Professional Rodeo Cowboys Association in bullriding and fourth in the all-around ($43,887).
The Top 15 reach the PRCA Finals in Las Vegas, Nev., this December.
For a little fun, check out the University of Oregon's parody of Psy's "Gangnam Style" video, which was one of three unique Ducks promotional pieces recently honored by the National Association of Collegiate Marketing Administrators.
You can view the video at www.youtube.com/watch?v=mDpgzn7KuzE.
The video, featuring the Oregon Ducks mascot, has generated nearly 7 million views on YouTube and was honored with NACMA's silver award in the category of Video Board Segment.
Over the past two years, Oregon leads all FBS schools with seven awards and has garnered 20 honors in the 10-year history of the program, which is tied for third overall.
There is a reference to Kevin Bacon at the end of the video, which I think is a reference to the movie "Animal House." The movie, one of the first for Bacon, was filmed on and around the Eugene campus.
If you have ever wanted to participate in a world record, no matter how dubious, you might consider the effort to set a skinny dip record Saturday, July 13, across North America.
Northwest Nudist Resorts, including Kaniksu Ranch, located 45 miles north of Spokane, will be among those participating.
Others include Bare Backers, Boise, Idaho; Sun Meadow Resort, Worley, Idaho; Skinnydipper Recreation Club, Surrey, B.C.; Hidden Springs, Portland, Ore.; Squaw Mountain Ranch, Estacada, Ore.; The Willamettans, Marcola, Ore., Fraternity Snoqualmie, Issaquah, Wash.; Lake Associates Recreation Club, Mount Vernon, Wash.; Lake Bronson Club, Sultan, Wash.; and Wine Country Bares, Wapato, Wash.
See Sidelines B2 The attempt is co-sponsored by the American Association for Nude Recreation (www.aanr.com) and The Naturist Society to track the largest number of people simultaneously skinny-dipping. The above clubs are officially sanctioned, participating venues.
Everyone dips at 1 p.m., said regional publicity chair Dave Smith.
"Skinny-dipping, a wholesome tradition as old as mankind and frequently honored in art and movies, celebrates the natural joy of plunging into water without hindrance of clothing," Smith said.
In conformance with stated rules, all participants to be counted must be completely nude during the skinny-dip. Efforts will be made to accommodate first-time skinny-dippers. Clubs are holding open houses to welcome and introduce people to the Nudist Lifestyle.
All record attempts will be "witnessed" by a designated "member in standing" of the local community, Smith said.
"This is not a Guinness World Records event but an attempt to beat our current Guinness Record," Smith said.
The Omak Stampede Arena will be pretty busy the next couple months.
The Boots and Saddles Barrel Racing Club is in the arena at 6 tonight, July 10.
Practices for the World-Famous Suicide Race begin Friday, July 19.
Vet checks will be 5-9 p.m. Friday and 2-10 p.m. Saturday.
Race practices, depending on Okanogan River water levels, could start Sunday, July 21.
If more than 20 horses enter the race, elimination races are planned for 3 p.m. and 5 p.m. July 28. If there is no elimination race, there could be a jackpot race at 3 p.m. if enough horses want to compete.
The Omak Stampede and World-Famous Suicide Race are planned for Aug. 8-11.
Warrior Stampede is planned for Aug. 16-17.
Boots and Saddles Barrel Racing club returns Aug. 12 and Aug. 21.
A Mexican Rodeo is planned for 3-10 p.m. Sunday, Aug. 25.
Get those downriggers ready, the eighth annual Budweiser-Lowrance King Salmon Derby returns Aug. 2-4 in Brewster.
The adult winner earns $1,500. There is $500 for the 14-and-under winner and $100 for the 8-and-under winner.
More than $20,000 in cash and prizes are up for grabs.
There is more on the derby's website, brewstersalmonderby.com.
The same weekend is the 12th annual South King County Puget Sound Anglers Salmon Derby on Aug. 3.
The contest, which includes $3,500 for first, starts at daylight Saturday and runs until 1 p.m. in areas 10, 11 and 13.
Derby proceeds benefit salmon conservation and kids conservation education.
Rules are at www.pugetsoundanglers.net.
Fishing is heating up almost as fast as the temperature at the Conconully lakes.
"Fishing has been fantastic, lots of trout and kokanee," Gene Bussell at Liar's Cove Resort said. "Even our little kids are catching their limit."
Bussell said Power Bait was working well for still fishing, while Wedding Rings and pop gear were working for trolling.
Cheri Peterson and Craig Caudle of Marysville were very successful in the upper lake for kokanee ranging from 15 to 17 inches and weighing a pound to a pound-and-a-half.
Peterson also landed a 3.5 pound, 21 1/2 inch rainbow.
Salmon recovery efforts in the Methow Basin will be the subject of a special Okanogan County Fly Fishing Club meeting at 5:30 p.m. Saturday, July 13.
The no-host meeting, where the public is invited, is at the Methow Salmon Twisp River Ponds field office, 50 Twisp River Road, or about a half mile from downtown.
"We will have a barbecue on site as well as water and a Porta Potty," club secretary Steph Avena said. "Knowledgeable folks will be on hand to talk about restoration of salmon habitat in the
On Sunday, I wrote about Similkameen Adventures and Trail Rides run by Susan Cooksey and specifically the Palmer Lake Horse Camp, where graduates participated in the Chesaw Fourth of July parade.
I was unable to reach Cooksey on Friday – she was out with the girls on a trail ride, but she returned my call Monday.
Her business on Palmer Lake, which got into full swing in 2006, will have another camp July 29-31 for tenderfoots (those age 9 and older with some horse experience) and Aug. 5-7 for greenhorns (those age 7-8 with no horse experience).
Besides camps, Cooksey books guided trail rides that normally are in the morning or evening, when it's cooler.
Campers often swim in the afternoon to beat the heat.
She suggested an evening ride, when the area's animals such as deer and coyote get up and roam.
The business took 20 years of planning, she said.
The third annual Rose Garden Paddle and Saddle Fundraiser is planned for Saturday, Aug. 3, starting at the AA Campground at the Inchelium Ferry.
Final registration will begin at 7:30 a.m. Pre-registration can be done by calling 509-722-7064.
All-terrain vehicle riders leave at 8:30 a.m. followed by horses at 9 a.m.
Prizes include best poker hand, oldest rider and traveled farthest.
Prizes include saddlebags, buckets, halters, fender packs and camping gear.
At noon there will be a paddle race for canoes.
Following the races there will be a silent auction.
Organizers say there will be entertainment, good food and games for the children.
The North Central ATV Club will meet at 7 p.m. Friday, July 12, at the Conconully Community Hall219 Main St., Tim Weller said.
The club keeps an online presence at www.ncatvclub.org and is on Facebook under NCATVClub.
The deadline is fast approaching to enter the Pateros Apple Pie Jamboree 3-on-3 basketball tournament planned for Saturday, July 20.
The early registration deadline is Monday, July 15, for $70.
Late signups will be taken until Wednesday, July 17, for $85, organizer Linda Heaton said.
Registration, including payment, can be done online at www.paterosapj.com.
Those with questions can call Pateros City Hall at 509-923-2571 or Heaton at 509-439-0285.
The tournament includes free throw and 3-point shoot contests with cash prizes.