Kirby Wilbur.
He's somebody you may or may not have heard of. But in recent years, he's influenced the rural voice of Eastern Washington, even though he didn't live here.
For the last few years, Wilbur has been the Washington State Republican Party chairman.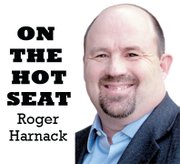 Yesterday, he resigned his post to take a job in Washington, D.C. I bring this to your attention because of the fiasco of last year's state Republican convention and the presidential nomination process.
To refresh your memory, Mitt Romney received nearly all of the state's Republican delegates even though nearly half of state conservatives supported Ron Paul.
Wilbur would have had you believe the state's conservative residents overwhelmingly supported Mitt Romney for president. He would've had you believe there was not a split within party ranks.
But, in fact, he was a major player in deciding how our state's Republican nomination went down. And he was one of the decision-makers who exaccerbated the rift between Romney and Paul supporters.
As most of you recall, a majority of Eastern Washington communities supported Paul and his effort to reduce government. And nearly every delegate from North-Central Washington was dedicated to Paul.
But Wilbur and the party "elite" in the state's more urban areas made sure our voices were silenced at the Republican convention.
Their tactics included leaving Okanogan County delegates off ballots for the Republican National Convention and omitting names of speakers from our area who would've given a view that differed.
At the time, many from North-Central Washington believed Wilbur was kowtowing to party insiders in Washington, D.C.
And with his decision to accept a job in Washington, D.C., and resign yesterday, those suspicions appear to have been correct.
So where does that leave us?
Well, it leaves us with a better chance to be heard and influence future elections and policies... maybe.
Wilbur's replacement is Whatcom County's Luanne Van Werven. Van Werven was the vice chairman for the party. And I'm sure she didn't get that position by bucking party elite.
Still, with a new leader comes a new chance for rural Washingtonians to be heard. It's a chance to reinforce our liberty-minded principles.
And it's a chance to open the door for fairer play. But we will have to let Van Werven know how we feel and what we expect.
Roger Harnack is the editor and publisher of The Chronicle. He can be reached
at 509-826-1110 or via e-mail
at rharnack@omakchronicle.com.
More like this story