It makes me nervous when I'm driving down the road and see the red-and-blue lights coming up behind me.
What did I do wrong? Is the law enforcement officer going to pass me?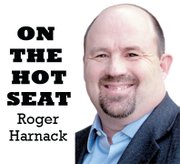 But last week at Omak Municipal Airport, I was chased by the long arm of the law, without worry. Well, at least without the worry of receiving a ticket.
Law enforcement officers spent two days training for high-speed pursuits on the runway apron.
The objective: To complete a tight road course in less than 1 minute 45 seconds without knocking over a cone. The officers were required to complete the course, twice, without knocking over cones, if they want to drive a patrol vehicle on area roads.
Now, having raced stock cars, motorcycles, snowmobiles and Jet Skis, I couldn't resist the invitation to participate. The invitation included having an officer chase me through the course — lights flashing and siren blaring.
Like many of you, I was sure I could pass the test and out-drive the long arm of the law. Indeed, I passed, as did Chronicle Sports Editor Al Camp.
And yes, we both scored times better than some officers. (That bragging right, however, may be tempered by the fact many officers found the road course routine and didn't have anything to prove.)
But then there were other officers who lit up the tires.
Midway through the training process, Okanogan County Sheriff's Office deputy Josh Brown hit a smokin' time of 1:17. His top speed was, ironically, 117 mph.
And Sheriff Frank Rogers — AKA "Batman" — himself, logged a 1:21 and a top speed of about 105 mph on the approximately mile-long road course that featured high-speed straights, hairpin turns, tight chicanes and narrow lanes.
Colville Tribal Police Officer Tom Holsworth ran the same time in an SUV, tires squealing all the way. Holsworth also had the unnerving chore of sitting in the passenger seat as Al and I took our turns at the wheel. He survived, (but not without a little consternation).
Watching our professional law enforcement officers in action was akin to watching a stock car driver on a road course. And it was a good reminder that our officers are well-trained before they engage in a high-speed pursuit.
That's especially important in our area, where chases can lead on twisting, turning gravel roads through the woods and along mountainous edges.
Roger Harnack is the editor and publisher of The Chronicle. He can be reached at 509-826-1110 or via email at rharnack@omakchronicle.com.