I always knew my daughter, Olivia, would have an athletic injury.
That day has finally arrived.
Last week, she sprained her ankle playing soccer. It was her first injury significant enough to see a doctor.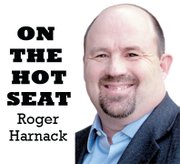 The diagnosis – a minor ankle sprain combined with Achilles tendonitis. According to her doctor in Michigan, she's not to run, jump or participate in activities with substantial "impact" on her ankle.
That's like trying to tell a bird not to chirp or a fish not to swim.
The injury comes right at the beginning of her summer, when she is scheduled to race all-terrain vehicles and Jet Skis, as well as swim for the Omak MantaRays. (At least she is still allowed to swim competitively, even if she has to limp to the diving blocks.)
Needless to say, this coming Father's Day weekend, and most likely a few more weekends, will be a lot different for us.
We have summer plans for backpacking, caving and rock climbing trips, in addition to our racing. Obviously, some of those plans will have to wait until next year.
At least she's not on crutches, although I'm sure the brace she has to wear will cramp her style.
It won't be the first time we've had to curtail our "adrenaline junkie" lifestyles. But it will be the first time we've slowed things because of her.
In the past, I've been the one to break bones, tear ligaments and suffer athletic-related injuries.
She's used those opportunities to tell me I'm too "old" to still be racing, riding, boarding or playing the way I do. We'll see how she likes it when I tell her she's too "young."
Turnabout is fair play in our house.
Teasing aside, at least we'll still be sharing our Father's Day weekend together. It may not be the high-speed weekend we usually have, but it'll be fun nonetheless.
Maybe we'll go fishing or take in a movie. Or maybe we'll just stay home play the stereo and make popcorn.

It really doesn't matter how we spend our time together, it'll still be well-spent.
As a father, I look forward to my time with my 11-year-old daughter. And I'm sure most other dads look forward to the time they have with their children – even those that have grown up.
This Father's Day weekend, spend some time with your Dad. And Dad, make time to spend with your children.
Go out, stay home, anything.
Renew old traditions or make new memories. You'll be glad you did.
Happy Father's Day.
Roger Harnack is the editor and publisher of The Chronicle. He can be reached at 509-826-1110 or via email at rharnack@omakchronicle.com.