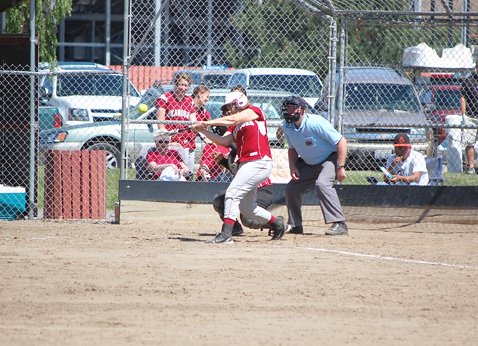 Photo by Garrett Rudolph
Sarah Gray of Okanogan rockets a hit against Omak on May 2.
Brewster wrapped up the regular season on a five-game winning streak after pounding Tonasket, 11-0 and 15-1, May 4.
The third-place Bears (14-6 overall, 10-4 league) were to host sixth-place Chelan (8-12, 5-9) in a loser-out game Tuesday, May 7.
The winner advances to play second-place Okanogan (17-3, 12-2) this Saturday, May 11, in Chelan.
Brewster won two games from Chelan earlier in the year.
"That was a month and a half ago," Brewster coach Rick Miller said. "They are a whole different team and we are a different team. We have to play our best softball."
Brewster beat Pateros, 8-3 in a non-league game May 1.
OMAK – Okanogan softball spruced up for the postseason at the expense of Omak, winning 20-4 and 23-6 in Caribou Trail League play May 2.
The Bulldogs, riding a 14-game win streak, return to action this Saturday, May 11, in Chelan against the winner of the Brewster and Quincy game that was to be played Tuesday, May 7.
Also on Tuesday, Cashmere was to play Chelan. The winner plays Cascade in Chelan on Saturday.
The Top 3 games from the district tournament play a bi-district tournament Saturday, May 18, in Brewster with teams from the Northeast 1A League to determine berths to the state 1A tournament.
"We pitched it well and made some amazing defensive plays," Okanogan coach Darin Radke said of the wins over Omak.
In the opener, Kolby Marchand threw from center field to get an Omak runner at the plate to preserve the shutout.
Okanogan's Brooklyn Bauer was 4-4, driving in 6 runs while stealing 5 bases for the Bulldogs, who knocked out 20 hits.
Kendra Alec went 2-2 for Omak and stole a base.
In the second game, Cameron Moses made a diving stop at short before tossing out the hitter at first.
"It was nice to see the bats hot all day and to see the girls run the bases aggressively, but smart," Radke said. "We got through the regular season on a roll and now this is what we have been waiting for, the postseason."
""We have a good core of young kids that will be back next season," Omak coach Rick Duck said, whose team finished 3-17 overall, 3-11 in league.
Okanogan (20) – Bauer 4-4, 4R, 6RBI, 5 SB; Chiles 3-4, 2R, 2B, 3RBI, SB; Norwill 2-4, R, 3B, RBI; Carrillo 2-4, 3R, 2B, RBI, BB, 3SB; Marchand 1-4, R, 3RBI, SB; Morris 1-3, R, RBI, SB; Harris 2-3, 3R, BB, SB; Oules 2-3, 2R, RBI, SB; Huner 303, 3R, 2RBI, 3SB.
Omak (0) – K. Alec 2-2, SB; Jackson 1-1, BB, HBP; Keaton 1-3.
In the nightcap, Darlene Carrillo was 3-3 with two doubles and Kailey Huner stole four bases while going 3-3 for the Bulldogs.
"All in all, it was a good day," Radke said.
Makisha Zacherle was 2-2 for Omak with an RBI.
Okanogan (23) – Bauer 4-4, 2R, 3RBI, SB; Chiles 1-4, R, 2RBI; Norwill 1-4, R, RBI; Carrillo 3-3, R, 2 2B, 2RBI; Marchand 1-2, BB; Harris 1-3, RBI, SB; Oules 2-3, 2R, RBI; Moses 3-3, 3R, RBI, 2SB; Huner 3-3, 2R, 2RBI, 4SB.
Omak (6) – Jackson 1-2, R, RBI, BB; K. Alec R, RBI, BB, HBP; Keaton BB; Zacherle 2-2, R, RBI; D. Alec 1-2; Tatsama R, 1BB; Routien 1-2, R; Ables 1-2, R, RBI; Dawson BB.
uuuuu
BRIDGEPORT – Bridgeport demolished Manson, 28-6, in a three-inning league softball game April 30.
The Fillies pushed across 14 runs in the first two innings before giving up six runs, including a grand slam home run, in the top of the third.
"Bridgeport got off to a big lead and the Trojans could not catch up in time," coach Janice Stewart said.
Manson suffered from 9 errors.