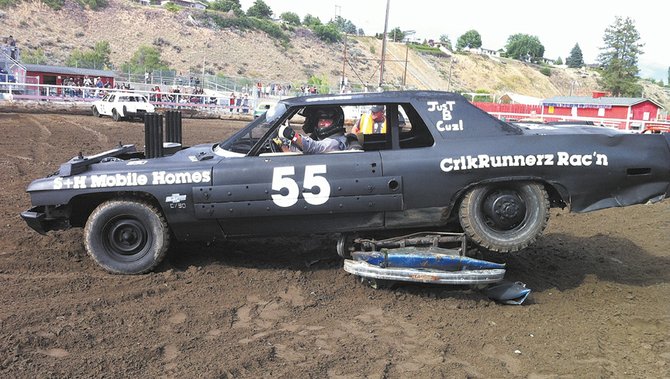 Leon Hoover
Scott Kuntz of Frosty Creek won $100 for flipping over and demolishing a Volkswagen in 2012.
OMAK — A few good cars and drivers are needed for the 2013 Omak Stampede Demolition Derby slated for June 22 in the Stampede Arena.
"That's going to suck if we don't have enough cars for a derby," last year's champ Scott Kuntz of Frosty Creek said. "The more cars the better the purse."
As of May 13, only five cars had signed up to compete, organizer Leon Hoover said.
"We need at least 10 cars to run it," Hoover said. "Last year at this time, we had 12 guaranteed cars."
Registration and rules have been available online at www.omakstampede.org for several months.
Those wishing for an application who are not online can call 509-826-1983.
"I'm entering," Kuntz said. "I know of about seven cars at least being put together. They may not necessarily be for Omak.
"I hadn't heard from Leon" about a lack of cars. "I put all this time and effort into a car. I would be bummed out."
Registrations also will be taken noon to 4 p.m. the day of the event, if it should go on as planned. The start time depends on how many cars enter, Hoover said.
"If we don't have 10 cars by June 10, we will have to cancel the event," Hoover said.
This year's demo could well include another bounty Volkswagen.
Last year a Volkswagen donated by Jim Lobe was placed in the arena, with a $100 prize if someone could knock it onto its top.
Kuntz ran over the top and demolished the car, which was without tires and motor.