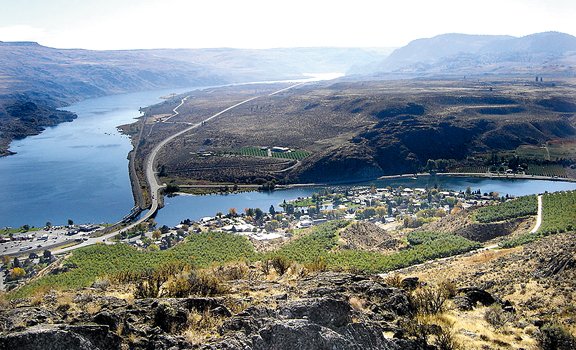 PATEROS — Businesses are moving in, parks are growing and tradition carries on in Pateros as the community celebrates its 100th birthday this month.
The town has been recovering from being relocated for decades after the building of Wells Dam in the 1960s. After losing nearly half of its population, it has crept back up to about 667, according to the 2010 U.S. census.
I look back on my life now
and I think it was the best
place on earth to live.
Former Pateros resident Amy Snedaker
"I think it's been slow, but it's starting to accelerate," Mayor Pro Tempore George Brady said. "There was a long period where there were very few businesses in Pateros and there wasn't really much economic activity, and I think in the last particularly 15 years we've had a couple of mayors who have worked on economic development and the benefits are starting to show."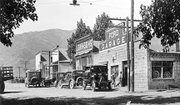 While the Pateros Chamber of Commerce went dormant in 2011, the city is an active partner with Economic Alliance in Okanogan County to help boost business activity. A pamphlet detailing why businesses should move to Pateros has been distributed as far as California, Brady said.
"It appears that we're starting to hit critical mass with the number of businesses in town, and of course we always want more," he said. "We're one of the few towns up there that the city still owns a substantial portion of the downtown… Where a lot of areas wouldn't have business-type property available, we do."
The utility district pitches in on local development as well, he said.
In the new 50-year license for the Wells Hydroelectric Project, the utility agreed to pay for parks maintenance, as those parks sit on utility-owned riverfront property. The utility also developed a beach area at Peninsula Park last year and contributed the majority of exhibits in the museum, Brady said.
People who live in Pateros today they tend to express the same sentiments about why they like to live there.
"It's small, it's friendly, everybody knows each other and we seem to do pretty well together as a community," Brady said.
A potluck birthday party will be at 5 p.m. Tuesday, May 21, at Memorial Park on Lakeshore Drive. Residents are asked to bring their favorite dish to share, partake in some birthday cake, watch the Pateros High School choir perform its spring concert and participate in a group photo.
Looking back over the past century, the town's history is unique. For instance, while many rural towns grow to need a stoplight, Pateros got rid of its only stoplight.
About 850 people lived in Pateros before the dam was built, the highest population since the town was founded and boomed in 1885.
The main downtown road was known as Methow Street, now buried under the Pedestrian Mall. Forty businesses provided for the residents' nearly every need, including three grocery stores, a hospital, clothing shop, movie theater, soda shop, train depot, drugstore, two lumber yards, three gas stations, six apple sheds and more.
"Everything was perfect," former resident Amy Snedaker said. "I look back on my life now and I think it was the best place on earth to live."
Snedaker, 97, of Wenatchee, was born Aug. 12, 1915, in Pateros, only two years after the city was incorporated. Though she moved away after graduating from high school, she said she still visits and plans to attend the July 19-21 Apple Pie Jamboree.
Her grandfather and grandmother, with the last name of Adams, homesteaded in Pateros in the late 1800s.
"We didn't have very much, but my folks raised a garden and supported us kids," Snedaker said.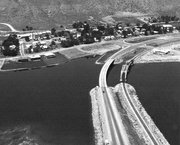 The main intersection was at Methow and Dawson streets, and there was indeed a stoplight until the town was moved and the population dwindled.
In 1962, the utility district was awarded a 50-year license for the creation and maintenance of Wells Dam, about 8 miles south of Pateros along U.S. Highway 97.
There was an uproar when residents learned that not only their way of life, but the town itself, would see some drastic changes, said Joni Parks, the city's deputy clerk and museum coordinator.
Dozens of residents packed City Council meetings, which often ran until midnight, to share their concerns. When the council accepted the utility's proposal to move the town and foot the bill, then-mayor Jack Nickell walked out of the meeting and resigned in protest, Parks said.
The city had come up with its own plan, but didn't have the money to implement it. In that plan, the business district would have been moved up the hill, and the land fill would be zoned for recreational use.
The utility's accepted plan required building on top of the existing business district and helping displaced businesses and residences with the costs of relocating. Construction crews got to work in January 1965. Once the dam was built, the river level rose 50 feet in two days, Parks said.
The utility paid about $1 million to move the town. That work included either demolishing or moving 242 buildings, re-grading and paving highways and roads, building the Methow River estuary now known as Peninsula Park, and installing a new sewer plant and water system.
"It was a different world then, and I think the (utility) did the best they could to minimize the impacts," Brady said.
Barbara Stanley, 83, moved to Pateros with her husband and their young family before the dam was built. She recalled how her oldest son, Ray, would hide in the orchard trees instead of going to school.
That orchard, once located at the foot of Watson Road, is now gone. So is the orchard across the road from Stanley's house, where she used to pick apples every day for the owner.
The Stanleys liked to go fishing and camping, but when the five children were older she would send them to the movie theater. Stanley went grocery shopping on Saturday nights. That's one of the things she misses most – the variety of local businesses.
"The people are friendly here. They've got everything that I need but a grocery store," she said with a laugh. "We didn't have a very exciting life, but we were happy."
Their little yellow house on Watson Road was safe from the 1948 flood, and they didn't have to move when the dam was built, Stanley said. She did recall one strange sight when the river level rose.
"One time an old man was sitting on a log, floating down the river and just a hollering, waving his arms in the air," she said. "He was having a jolly old time."
The school, faced with an influx of more than 1,000 students as construction workers moved to the area, negotiated with the utility for a new elementary wing that's still there today. A new City Hall was built that also housed a jail, the police department and municipal court. U.S. Highway 97, once located where Warren Avenue is now, was moved down the hill.
A number of families pulled up roots and moved to the Brewster area, and the town's population shrank to 475 by the early 1970s. Most of the businesses reimbursed by the utility either moved away or didn't rebuild.
Hundreds of acres of orchard land were lost to the rising river, and to this day some of that remains underwater along with the concrete foundations of old orchard buildings, Parks said.
Parks has been steeped in the city's history for more than a year, researching, writing and compiling old photos in preparation for the centennial.
While the town isn't the same, there are some remnants of what came before. Brady said an acquaintance of his once hit the old Methow Street when he was planting a tree on Pedestrian Mall, and part of the rock wall built by Chinese miners can still be seen.
The old days can still be found in books, documents and photos at City Hall or in the Okanogan County Historical Society, not to mention in the hearts of older residents.
"It was a wonderful place to live," Snedaker said.