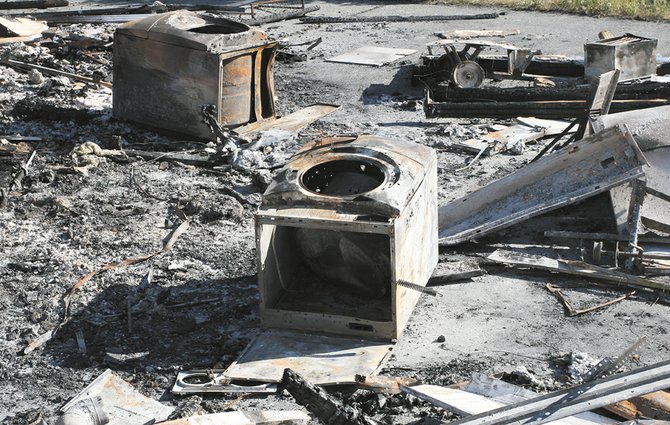 Photo by Jennifer Marshall
The washer and dryer dropped through the floor and into the basement of the Woods' Pateros home when it burned on May 3.
PATEROS — A week after being admitted to a Seattle hospital with severe burns on her face and hands when her home burned down, a local woman hopes to be home soon.
The cause of the fire is still under investigation, Douglas Okanogan County Fire District 15 Chief Bill Vallance said.
Patricia Wood, 72, is out of the intensive care unit at Harborview Medical Center and could come home as early as next week, daughter Tracy Miller said.
Doctors are still keeping an eye on Wood's skin to see if she will need skin grafts.
"They're just taking excellent care of her," Miller said. "But she really, really wants to come home."
Miller, 53, of Pateros, will care for Wood when she is released. Wood and her husband, 76-year-old Jack, will move in with Miller until their new home is built in the same spot.
The Woods were home when a fire ignited at about 4 p.m. May 3 in the back of their house, a doublewide manufactured home on top of a full basement at 407 state Highway 153.
Patricia Wood was in the room where the fire started, Miller said. Jack Wood was in the kitchen when he smelled smoke. He was able to help his wife out of the house without suffering any injuries himself.
The couple's dog, Theo, died.
Response came from Okanogan Douglas County Fire District No. 15 emergency medical services and firefighters from Brewster, Methow and Pateros, as well as Okanogan County Fire District No. 6 from Twisp.
By the time firefighters arrived, the house was about 75 percent engulfed in flames, Vallance said.
"An aggressive interior attack was attempted until the floor collapsed into the basement, forcing crews to back out of the structure," Vallance said. "At that point, crews were unable to enter the main floor due to collapse and were unable to enter any part of the daylight basement and attached garage due to the floor/ceiling falling in."
Firefighters saved the family's vehicle from damage by pulling it out of the garage before it caved in.
The last fire crew cleared the scene at about 7 p.m., Vallance said.
Miller said the family is working with the home's insurance company on details of rebuilding.
The home was owned by the couple's son, Terry Wood, who is a doctor in the Bellingham area.