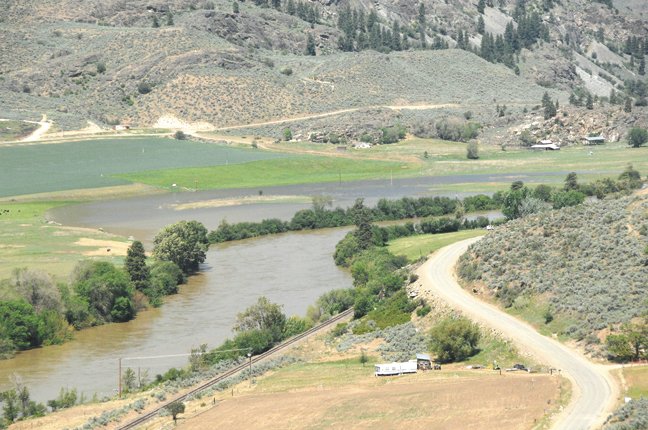 Photo by Al Camp
The Okanogan River swells near flood stage and into a field on Tuesday afternoon near Riverside.
TONASKET — The Okanogan River crested at 17.15 feet the morning of May 15 and then dropped by more than two feet at the Janis bridge gauging station, but the water level is expected to rise a bit with the prediction of rain for the coming days.
Still, the worst probably is over for this spring, Okanogan County Emergency Manager Scott Miller said.
"I feel that was the peak for the season," he said Friday, May 17. "I'm confident we're over the hump for the year."
Rain predicted for this week could bring the water level back up to around 15.7 feet later this week.
"That was a little bit unexpected," he said.
When the water level hit 15 feet at Janis, the U.S. Army Corps of engineers sent a team to the county to monitor the river and flood-control dikes in Oroville, Omak and Okanogan.
Those cities' public works departments also are keeping an eye on the river, Miller said.
The Corps team arrived May 10 and left May 13.
As of Friday, May 17, the flood warning continued for the Okanogan River near Tonasket, the National Weather Service said. The river level was 15.45 feet.
The Okanogan River is receding, but will remain above flood stage through the weekend. At Janis, the river carried 21,300 cubic feet per second at the crest. That dropped to 16,900 cfs by Friday morning.
"More seasonal weather will allow the Okanogan River to continue to recede this week due to the slower rate of mountain snow melt and runoff," the Weather Service said. "There is the potential for renewed rises on the Okanogan River early next week due to a change to a rainy weather pattern."
The extent of river rises "are highly uncertain at this time."
Miller said the area from Okanogan to Oroville is experiencing lowland flooding, but he's had no requests for sandbags or reports of flooded basements or stranded livestock.
"At 17.15 feet, everything held," he said.
Besides the Janis gauging station, officials also watch the station on the Similkameen River at Nighthawk. The Similkameen is the Okanogan's major tributary.
"Nighthawk is our key for what's coming down from Canada," Miller said. Local river watchers no longer monitor the Similkameen at Hedley, B.C.
Water from the river has been pushing Palmer Creek's flow backward into Palmer Lake. Chopaka Road, which crosses Palmer Creek, was covered in places, although residents still were able to drive through, Miller said.
No flooding was reported on Palmer Lake.
Near Oroville, the water level of Osoyoos Lake reached its peak Wednesday at 914.19 feet.
As of May 17, the Okanogan River at Oroville, just below the confluence with the Similkameen, had a reading of 12.14 feet and 4,890 cfs, the Weather Service said. That was down from a high of 13.76 feet on May 14.
In Omak, crews are monitoring the river, Public Works Director Todd McDaniel said.
"We're excited it's going down," he said. "We're good for another year."
Next door, in Okanogan, an area south of the Oak Street bridge that had to be shored up in 2011 has been holding firm with this year's high water, Miller said.
Okanogan Public Works Director Shawn Davisson said his department and the fire department are monitoring dikes and bridges.
"There has been very little to no debris buildup at the Oak Street bridge," he said.
A few Okanogan residents have reported water in their basements.
Miller said he's noticed less debris in the river than in some past years.
"There's the occasional log or other debris," he said.
The Weather Service warns people to be aware of large debris in the river since high water can push logs and other items into the river.
Creek levels also have dropped or are normal. No problems have been reported on the Methow River.
The Kettle River near Laurier crested at 13.78 feet at 6 a.m. May 13 with a flow of 23,600 cfs. As of 10:15 a.m. May 17, the flow was 10,530 cfs.
The Kettle near Ferry peaked at 18,460 cfs at 1 a.m. May 13. It dropped to 15.42 feet and 7,550 cfs by 10:15 a.m. Friday.
The Weather Service warned that spring snow melt runoff in lakes and rivers "is dangerously cold and can be life-threatening for those (who) come into contact with the water.
"Never drive cars, trucks or sport utility vehicles through flooded areas," the Weather Service said. "The water may be too deep to allow for safe passage. As little as one foot of water on the road can move most vehicles off the road."
Historically, the highest measured level at Janis was 22.54 feet on June 2, 1972. Other high water marks were 21.79 feet on May 31, 1948; 18.79 feet on June 19, 1974; 18.66 feet on June 18, 1950, and 18.31 feet on April 27, 1934.
At 17.5 feet, water is expected to seep behind dikes and Cornett's motocross track downstream from Okanogan.
The recorded low at Janis was 3.43 feet on Sept. 5, 1931.