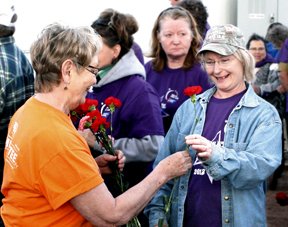 Photo by Garrett Rudolph
Local resident Carol Johnson, left, hands a flower to cancer survivor Rose Kuhlmann prior to the survivors' lap on Friday evening at Okanogan High School.
OKANOGAN — Despite the rainy weather that chased away some attendees, this year's Relay for Life surpassed its fundraising goal.
The overnight event on Friday and Saturday at Okanogan High School raised a total of $60,021, chairman Roger Montanez said.
"I would like to say to the community how much we appreciate the support of the community and all those businesses that contributed and supported our relay," Montanez said.
This year's goal was $56,000 after raising approximately $54,000 last year.
Since its inception, the local Relay for Life event has raised nearly a half-million dollars for cancer research and awareness.
The top fundraising team once again was the ACS Board team, which brought in $8,083. The ACS Board team was awarded a trophy early in the event for being the top money-raising team from 2012, as well.
Irene Kuhlmann, of Havillah, is a member of the ACS Board team. She's attended every Relay for Life in Okanogan since it began in 1986.
"That first year we made $10,000 and we thought we'd just made the world," she said.
Kuhlmann and fellow team member Marge Prewitt said one of the big reasons they've seen for the growth is the increased involvement of youth teams.
This year's event actually had fewer teams — only 23 teams compared to 30 in 2012 — but was still able to raise more money. Factor in the rain, and Montanez said he was particularly pleased with how much the event was able to bring in.
"It went pretty good except for the weather, but it didn't dampen their spirits," he said.
"People were still very enthusiastic the next day and walking."
Montanez said there were close to 300 active participants at the Relay for Life and estimated between 450 and 500 total people attended the event at the high school track.
The Okanogan Soaring Eagles were second in fundraising with $7,051.
The Angels of Hope raised $6,611 for third place.
Montanez said the money raised has a tangible outcome.
"If you were to get cancer in 1977 ... you'd only have a 19 percent chance of surviving cancer," he said. "Now it's up over 60 for all cancers."
Montanez said Relay for Life events across the country are in a general decline for attendance.
However, the local relay has won awards in the past for fundraising per capita, often raising more money than more affluent communities, he said.
"That shows you the generosity of the hard-working, caring people that are here," Montanez said.