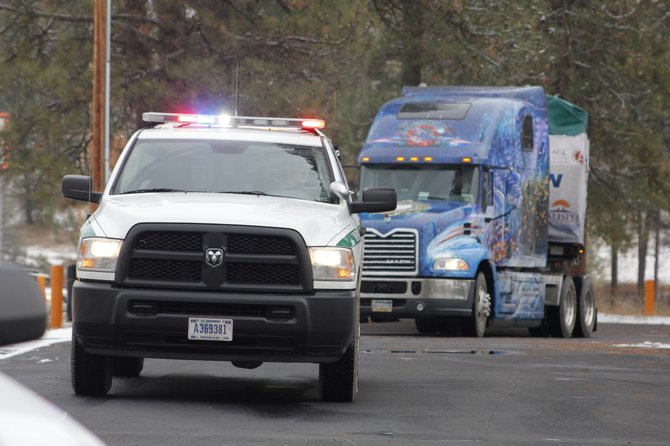 Photo by Roger Harnack
A Colville National Forest ranger leads the 2013 Capitol Christmas Tree National Tour into the parking lot of the Republic schools campus Wednesday.
REPUBLIC — Hundreds of area residents turned out Wednesday to get a glimpse of the 2013 Capitol Christmas tree.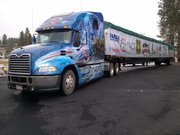 The 88-foot Englemann spruce, with a diameter of 32 inches, is bound for Washington, D.C., where it will be lit for the Christmas season.
The tree was cut down Nov. 1 in Pend Oreille County and will stop in 25 cities, including its final destination.
On Wednesday, the tree was trucked west over Sherman Pass to the Republic schools campus, where several hundred people and area dignitaries celebrated its arrival shortly after 10:30 a.m. with music, cookies and hot cocoa.
The tree resumed its trip shortly after 12:30 p.m., traveling west on state Highway 20 to Tonasket, and then south on U.S. Highway 97 to Wenatchee.
Complete coverage of the Capitol Christmas Tree National Tour's stop in Republic will be published in the Nov. 13 print edition of The Chronicle.