Covering death in small communities such as ours isn't an easy thing for any journalist to do.
As reporters, editors and photographers, our job is to lay out the facts of tragic events for you, the reader, to get the big picture. At the same time, we need to be sensitive to the family and friends of those who die.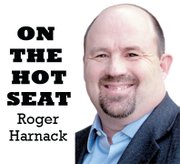 Last week, our coverage of the death of Maria Sanchez — who also went by the alias Mia Stanger — fell short on the sensitivity test.
In our effort to provide you with the information you needed to understand the circumstances of her yet-unresolved death, our staff failed to reach out to Sanchez's family and friends to tell the story of who and what our community lost by her death.
Our coverage failed to tell you she was a mother, daughter, granddaughter and friend.
It did tell you she had a criminal history and struggled through life. But that's not what she should be remembered for. Indeed, that's not what anybody in our small corner of the woods should be remembered for.
When our staff sets out to cover tragic events, we need your help to make sure we get the whole picture, not just those facts found in governmental, police and other records.
Our goal should be to tell the story of who we lost and how it will affect the community. You might think that would be easy.
It's not.
It's very difficult to call the grieving family and friends of someone who's passed away and ask about them.
It's not only difficult for our staff, but also for the family and friends.
As journalists, we need to be cognizant that not everybody can or will discuss the passing of a loved one. And as friends and family, you need to realize our loved ones also need an advocate to tell their life story.
That's where you can help us make a difference — you can tell the personal stories that we cannot find in cold, hard government records.
If you have fond memories of those who pass under tragic circumstances, let us know what they meant to you, and how they helped shape our community. Email us a picture of them being themselves. Help us tell their life story in a manner more appropriate for our small community.
Looking back at our coverage, Sanchez's family and friends deserved more. Sanchez, herself, deserved more.
Moving forward, our staff will be more diligent in finding family and friends to talk about the positive things the deceased bring into our lives and our community.
At the same time, I would ask you to help us by sharing your anecdotes, stories, photographs and experiences of the deceased with us.
Together, we can paint a much improved picture of tragedy and loss, life and contribution of our deceased.
And to the Sanchez family, our staff offers heart-felt condolences.
Roger Harnack is the editor and publisher of The Chronicle. He can be reached at 509-826-1110 or via email at rharnack@omakchronicle.com.