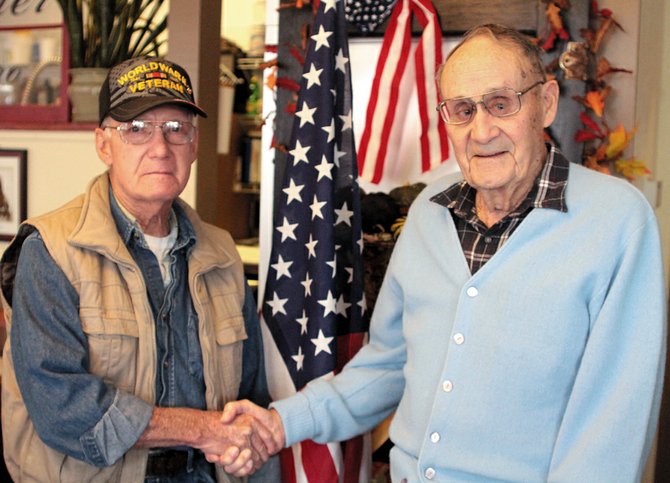 Photo by Garrett Rudolph
World War II veterans Vance Raimey, left, and Douglas Hull shake hands Saturday at the Corner Bistro in Omak.
OMAK — Local veteran Doug Hull's memory has faded somewhat through the years, but there are some moments and details about World War II that have stuck in his mind for nearly seven decades.
He remembers seeing German citizens after the fighting had stopped. He was struck by the image of a poor, starving grandmother.
He remembers a day during the Battle of the Bulge where he counted 13 U.S. bomber planes that were gunned down over Germany. He later found out that was Christmas Day, 1944.
He remembers coming back home to Omak and the challenges of returning to civilian life after a year and a half in combat.
"I've been very, very fortunate… Somebody had his hand on my shoulder," said Hull, who will turn 94 years old on Nov. 25.
Hull was involved in two of the pivotal moments of the European theater — D-Day and the Battle of the Bulge. He was a survivor from a company that didn't have many.
Early in his deployment, he carried a Browning automatic rifle on the front lines.
"The life expectancy of a BAR carrier in combat was less than a minute," his son, Ben Hull, said.
As Allied troops pushed toward Germany, opposing forces fought even harder to protect the country's borders.
At one point in the war, Doug Hull was part of a company that was crossing a bridge over the Rhine River and into Germany. The U.S. troops were in a valley, with German soldiers perched on the high ground.
Of the 180 men that attempted to cross that river in a 48-hour period, Hull was one of just 27 who survived.
He asked his sergeant, "Where's the rest of the convoy?"
The sergeant responded, "This is it."
He was part of the 9th Infantry of the 1st Army that landed at Utah Beach, two days after the initial D-Day invasion of Normandy.
Hull said he had no way of realizing the invasion would be one of the turning points in World War II.
"It was another day," he said.
During his time in Europe, he said he had no way of knowing where he was at. Looking back on it, he can't recall whether certain events happened in France, Belgium or Germany.
"There were no road maps, you just went where you were told," he said.

Hull said it was tough, both mentally and physically, during combat. He said soldiers tried not to get too close to friends in the service. It made it easier to handle the frequent deaths, he said.
"After a while, you got numb to it," he said. "You see so much of it. It's hard to explain. I told my wife, you've got to be half insane to do what we did."
Hull remembers the words of a general: "We taught you to kill and to keep from being killed. You're no good to us dead."
"That was rough, but basically, that's what it's about," he said.
He was 25 when he was drafted, with a wife and two children in Omak. He served in the Army from the spring of 1944 to the fall of 1945. He was eventually promoted to platoon sergeant and earned a Bronze Star.
"Unhesitatingly, Sgt. Hull and one other squad leader led their squads to the enemy observation post suspected of creating the (radio) interference," his Bronze Star citation reads.
"With complete disregard for personal safety, they advanced to within 25 yards of the post, hurled hand grenades with deadly accuracy and delivered a heavy volume of rifle fire, succeeding in killing the enemy officer in command and several of his operators. Sgt. Hull's devotion to duty, aggressive initiative and courageous actions were instrumental in securing clear reception over the radio, enabling the assault elements to coordinate their operations."
Despite the Bronze Star and other medals, Hull insists he is not a hero.
"He doesn't want to be, but he is (a hero)," local resident Jim Lantrip said.
In September, the two men met while participating in Honor Flight, which transports U.S. military veterans to the memorials in Washington, D.C.
"I thought it was my duty to go back and thank my buddies," he said.
Hull considers himself fortunate to have survived combat, but he didn't return to U.S. soil without injuries.
He still has the piece of shrapnel that was removed from his shoulder and he still remembers the feeling of the hot metal burning his flesh and the sound it made sizzling on the frozen ground.
Combat took its toll on him mentally, as well.
Seventy years ago, Hull said the Army didn't have much of an understanding of post-traumatic stress disorder.
Upon his return to Omak after the war had ended, he stood at the entrance to the Central Avenue bridge. He turned around and retreated to a diner, where he had a cup of coffee and tried to get up his nerve.
"He couldn't make himself be exposed with no cover," Ben Hull said.
Even decades after the war, Doug Hull is still affected by loud noises, like thunder or dropped dishes. It took him a long time to be able to sit in a place where people were behind him.
"There was one time," Ben Hull said, "I don't remember if I got in a fight or wrecked my bike, but I came into the house with a bloody nose. He couldn't see it. He took off, went outside and locked himself in the garage for I don't know how long. A day or two."
The symptoms have slowly improved with age, but the flashbacks still occur from time to time, he said.
Of the 600 million World War II veterans, only 1.2 million are still alive, according to the National WWII Museum in New Orleans.
Happenstance brought Hull to meet another World War II veteran from Okanogan County on Saturday in Omak.
Vance Raimey, from Oroville, took a moment to talk with Hull and his son.
Raimey was 17 when he joined his three older brothers in World War II.
He said it was not something he wanted to talk about, but shared one memory from when he returned to U.S. soil.
He remembers somebody asking if he was old enough to drink in a bar.
Another man responded, "If he's old enough to be killed for his country, he's old enough to drink," Raimey said.