When was the last time you heard of a lower-seeded football team hosting a first-round state game over a higher seeded team?
Out of 44 state playoff games this week, Oroville High School is the only higher-seeded team without a home game.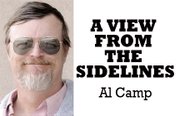 Oroville, No. 2 from District 5/6, is at Reardan, No. 3 from District 7/9.
The Hornets petitioned Washington Interscholastic Activities Association at the district and state level in hopes of a home game. They were denied at each level, Oroville Superintendent Steve Quick said.
Reardan and Oroville agreed over the weekend that the Indians' field was too sloppy for a state playoff game.
The 2B state game will be played at 7 p.m. Friday, Nov. 15, at Gonzaga Prep, 1224 E. Euclid Ave., Spokane.
"Reardan's field is pretty muddy and torn up," Quick said. "It might give it more of a playoff feeling that way, too (Gonzaga Prep)."
Washington Interscholastic Activities Association ruled that because there are more teams in District 7/9, the only home game for District 6 was the No. 1 seed (White Swan), Quick said.
"(This) despite the fact that they received five slots to the playoffs and we only received two," he said. "We'll need to move past that at this point and simply go and play some good football this coming weekend."
Alisha Howard, a 1995 Omak High School graduate now living in Olympia, set a world record dead lift en route to winning two world dead-lift/bench press titles.
Howard, competing in the 181-pound class as a police officer, took first in submaster age group in the world championships and for law enforcement and firefighters Nov. 5-10 at the World Association of Benchers and Deadlifters World Championships in Reno, Nev.
She set a world dead-lift record of 404 pounds. She also benched 275 pounds.
"She's a very striking woman," World Association of Benchers and Deadlifters President Gus Rethwisch said. "She must be 5-10 or 5-11. We had around 500 lifters from 40 states and 10 countries in 11 weight divisions."
Who is the ultimate athlete?
USA Today High School Sports is asking for submissions for someone you want to win the title.
Fans will vote on who they think is the Ultimate Athlete and the winner will be honored as the 2013 Ultimate Athlete and win great prizes.
A panel selected by USA Today High School Sports will narrow the submissions, depending on how many submissions received, and group them into eight regions. There will be a total of three rounds: regional (Nov. 25-Dec. 12), semifinal, and final.
Prizes include a feature article in USA Today and USA Today High School Sports, $1,000 donation to the winner's school's athletic department, $100 of Asics gear (Ultimate Athlete shirt, water bottle, hat, arm band, duffle bag, bands, etc.) and Asics training or warm-up gear for winner's team.
Dirt Toys Magazine has some pictures online from an all-terrain vehicle ride in Okanogan County.
The magazine spent a day recently with several members of Washington state's North Central ATV Club exploring the Okanogan area, racking up 80 miles of off-roading fun.
The magazine said there will be a travel story in a future issue.
The Okanogan Wildlife Council and Gun Club, 241 B&O Road, hosted a shooting competition Saturday.
Six shooters at the lower range engaged different targets while moving through the course.
The top score went to Mac McLean, followed closely in second place by Gero Mitschelen.
New shooter Levi Lantrip said running from one area to the next while shooting the cans and exploding targets made the competition fun.
The Okanogan AAU signups for boys and girls in grades three through six will be 5-7 p.m. Nov. 20 and Nov. 21 in the common area at Virginia Grainger Elementary, 1118 S. Fifth Ave.
Registration forms are available at Virginia Grainger Elementary, Okanogan Middle School and at time of registration.
Al Camp is the sports editor for The Chronicle. Email him at sports@omakchronicle.com.