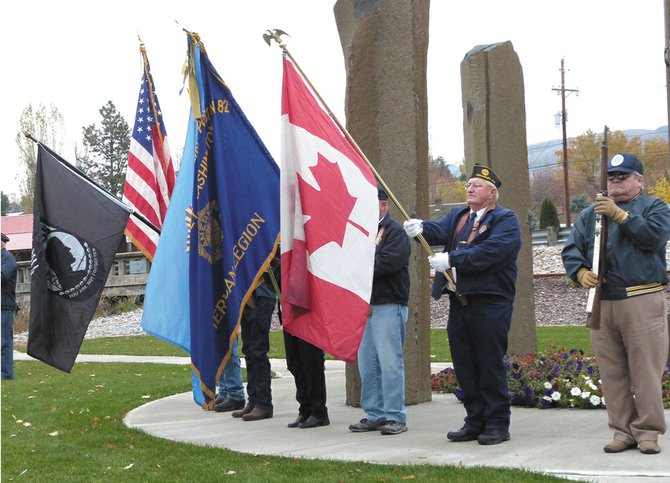 Photo by Dee Camp
Veterans stand at attention during the Veterans Day ceremony Nov. 11 in Tonasket. A rifle corps offered a 21-gun salute.
TONASKET — About three dozen people braved cold, breezy weather Monday for a rief parade and ceremony to mark Veterans Day.
The procession set out from the Tonasket Visitor and Business Resource Center and headed south about five blocks to the U.S. Armed Forces Legacy park. Although the parade had a police escort, traffic was not blocked out of the parade route.
After the parade, people gathered at the Legacy park for a program and 21-gun salute.
"Out of blood and sweat we learned a purpose," speaker Jeff Bergh said. That purpose – made up of honor and bravery, among other qualities – helps veterans carry on in other endeavors.
The day honors all veterans.
"We believe our determination made us better warriors," he said.
American Legion Chaplain George Frank offered a prayer, asking the Creator to grant courage to the nation "to live with the family of nations" around the globe.
Along with the American Legion and Blue Star Mothers, Cub Scouts from Pack 21 of Tonasket participated.
Tonasket resident Gordon Goesch, 80, rode in the parade and said he enjoyed the ceremony.
Goesch, a Korean War veteran who served in the Navy, also praised the Legacy project.
Frank said he was pleased with the event, and added he'd like to see the parade grow in size.
"It's nice to honor those living and dead" who served the country, veteran Ralph Longanecker said. "It brings back memories and (highlights) the sacrifices people made."
Longanecker served in 1956-58 in peacetime Germany.
"There's nothing as costly as a war" in terms of monetary and human costs, he said. "We need to take care of those who return."
To that end, Legacy volunteer Roger Castelda, who served in Vietnam, said Shane Burton staffs the Legacy office from 8:30 a.m. to 4:30 p.m. Monday through Friday to assist veterans with medical and other Veterans Administration benefits.
In addition, primary care for veterans is offered at North Valley Hospital in Tonasket.