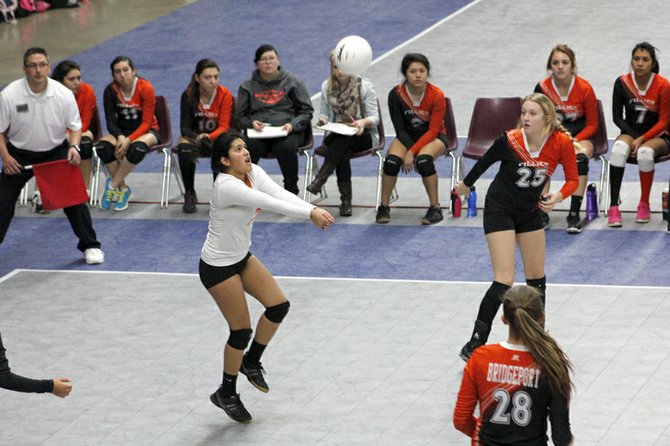 Photo by Roger Harnack
Bridgeport senior Diocelina Torres returns a serve against Toutle Lake High School during the Fillies' state volleyball tournament opener Friday morning in Yakima.
YAKIMA — The Bridgeport Fillies were no match for a powerful Toutle Lake volleyball squad, falling 3-0 in the opening round of the state tournament in the SunDome.
"They're a really good hitting team," Bridgeport coach Hanna Coffman said Friday after her girls dropped the third set. "I think we were just a little bit overwhelmed."
Bridgeport will play a loser-out game at 3:15 p.m. today against Tri-Cities Prep, which fell in the first round to LaConner.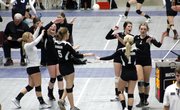 Coffman said the Fillies improved in each of the three sets.
"Our blocking really caught on," she said. "If we can just carry our momentum into the next round."
Senior Diocelina Torres received the sportsmanship award for the Fillies.
In her first appearance at a state event, she said she was "excited" despite the loss.
"I think it went pretty well," she said. "We knew they were a tough team."
Appearing before thousands of volleyball fans made the competition more intense, she said.
"We just needed to get the hang of it," she said.
In other North-Central Washington volleyball action at state, Almira/Coulee-Hartline held on to edge Sunnyside Christian, 3-2, in the Warriors' state-opener.
At 1:30 p.m., the undefeated Pateros Nannies will take on Quilcene, which finished third in its league on the North-Olympic Peninsula and fifth in its region to reach state.