It seems fish stories get more and more unbelievable as the years pass.
Take Russian President Vladimir Putin, who this summer caught a record-setting pike in a remote Siberian region.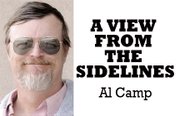 If Einstein said there was global warming, people would sit up and take notice. If Chicken Little said he'd landed a record fish, well, there would be laughter.
That's exactly what the Russian people are doing, hooting like crazy.
Putin, the action-figure politician, has been featured of late as a racecar driver, jet pilot, martial artist and oceanologist.
The latter led to him scuba diving and retrieving perfectly preserved ancient jars from the ocean floor.
At the time, his aides swore it was not staged. Of course, it was later found the whole thing was a Hollywood-style stunt (Moscowllywood or Bollywood?).
To finish the story, Putin's catch was more than 46 pounds. The weight is significant since it was larger than another large pike (26.4 to 33 pounds) hauled out by Russian Defense Minister Sergei Shogu.
Of course the aides (who also vouched for the vases) said they personally saw Putin's fish weighed.
So with this all in mind, I attended a recent Okanogan County Fly Fishing Club meeting in Okanogan.
Following a meal of apple pie, berry pie, pumpkin pie and a small bowl of stew (tastefully whipped up by Clyde O. Pock), I sat and listened to some tall tales that might even make Putin blush.
To protect the innocent and not so innocent, I have left off the tellers' names. The stories were true, under penalty of paying for anyone caught telling a tall tale. The truth and nothing but the truth was requested.
There were the yuppies who invaded Chopaka Lake with new everything – electric troll motor, canoe, L.L. Bean clothes and Cabela's-bought waders, graphite poles and flies.
While the old-timers watched, these neophytes, whose new outfits could be heard squeaking across the lake, installed campstools in the canoe and headed out on the lake.
Of course, it did not take long for the top-heavy canoe to tip over.
All the expensive rods and reels plummeted overboard along with the anglers, who waded to shore, loaded up what was left and sped away.
Then there was one of the very few young fishermen at the meeting saying he went out with his son, who was at the meeting, too, to a lake near Okanogan.
While all the other kids were hauling junk fish out like tuna, the young lad was catching nary a thing with his fly.
So dad, still wanting to instill the love of fly fishing, tied a yellow balloon on the fly.
You got it; a fish was landed – flopped backwards on their vehicle's windshield – in no time.
Seems yellow balloons simulate crank bait, which the other kids were using.
Of course, all these fish tales are true.
I was there to weigh in on them.
After all, all fishermen are liars except you and me, and I am not sure about you.
Al Camp is the sports editor at
The Chronicle. Email him at sports@omakchronicle.com.