Anyone who's been around rodeo or listened to Tonasket car commercials on the radio the last few decades knows the homey and distinct voice of Rich Fewkes.
So when you read Fewkes' self-published book, "The Way It Was," the experience is elevated if you can hear his rich voice telling you about friends he's known.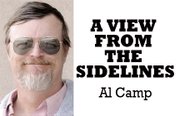 "The book is about my personal experiences with these guys," Fewkes said. "The point of the book is not me having the experiences, but about the people I was having them with, so they are not forgotten.
"I was afraid many of these people would be forgotten if somebody didn't say something and remind (people) who they were. They were, in my estimation, very instrumental in the foundation of the way things used to be."
Fewkes, 67, also emphasized that the 27 short stories come from his personal interaction and are not based on something told to him.
"These are personal experiences, so I know they are factual," he said.
Fewkes' background includes being involved with horses at age 10 and cattle at age 15.
Emmit Aston, who is in the book, gave Fewkes his first job.
Allen Stookey, also in the book, would buy "singles" at the Okanogan Livestock Market and give the calves to Fewkes, who would feed them and bring them back fattened up for the sale.
"That is what I would do all the way through high school for my spending money," said Fewkes, who graduated from Omak High School in 1965.
Along the way, he competed in rodeos, riding saddle broncs and bull dogging.
"I think I was a guy that was not too good at either one and trying to figure out what he was good at," Fewkes said.
Jim McGowan of Republic was a stock contractor who frequently bought bucking horses from Fewkes.
"I sold him a lot of horses over the years, and can honestly say, every one bucked," Fewkes said in the book.
McGowan talked Fewkes into announcing at rodeos.
"Jim said, 'You need to do this for me,'" Fewkes said. "I always took pride, I guess, in knowing who people really were and what their names really were."
Fewkes could be heard at rodeos in Chesaw, Republic, the Okanogan County fair and at Darryl Ferguson's Barrel-a-Rama.
The stories in the book are as much Fewkes' recollection of bygone county heroes, as a reflection of Fewkes growing up here and living with these men, and a few women.
"My dad (Riley) used to tell me years ago, 'You always have to look ahead, but don't forget to look back over your shoulder every once in a while,'" Fewkes said. "'Because that is who you really are.'"
So it's no surprise the book opens with former Omak High School Principal Mike Rowe and Harold Merrill, who took Fewkes (with his father's permission) at age 12 on a trip to the Pasayten Wilderness.
Mr. Rowe, as Fewkes still calls him out of respect, had a big paddle on the wall.
In the book you learn where Rowe bagged a record buck.
Also take off with Merrill and Fewkes on their trip, which started at the Iron Gate Trailhead and dropped into Horseshoe Basin. There they found cattle owned by Emmet Smith and sheep owned by Victor Lesamiz.
"There are a lot stories that have to do with horses or cattle (people)," Fewkes said. "That is the gist of the book."
There are stories about Pearle Beamer, Woods Schertenleib, Darryl Ferguson, Ed Windsor, John Figenshow, Ross Brown, Daryl Asmussen, H.W. "Bud" Burse, Randy Eppers, Ross Brow, Omer Bonney, Bud Stewart, Monte Alexander, Emmit Aston and Fred Leskinen.
You will also find Bill and Henry Kuehne, Roger and Sue Hart, Warren and Edith Olson, John and Delores Shaw.
There also are stories about legends, such as baseball player Ross McCormack, Judge Bill Kohls, dentist Dr. L.C. "Lou" Vejraska, Sheriff Russel Will and singer Marlo Truitt.
"Of course, Ross McCormack is not (having to do with cattle or horses), he was just Ross McCormack," Fewkes said. Fewkes used to listen to baseball games on KPQ when McCormack played for the Wenatchee Chiefs.
"Ross was a star with the Chiefs," Fewkes said. "He was always one of my heroes."
Years later, Fewkes spotted McCormack having coffee with his wife, Shirley, at the old Hamburger Heaven café in downtown Omak.
For six months he staked out a spot near McCormack, who eventually waved him over for a chat.
"I always wanted to be at his table," Fewkes said. "It was probably one of the best friendships I ever had over the years. We camped together, we fished together."
Longtime sports editor Nick Babcock with the Wenatchee World called McCormack the finest athlete who ever came out of Okanogan County.
"I agree with him," Fewkes said.
Many, if not most, of those in the book will be unfamiliar today's young people.
"So much of today's generation has lost any touch or knowledge of the previous generation," Fewkes said. "You cannot believe how hard it was to get pictures of some of these guys in this book."
Many of those listed helped establish their communities or played a big role in the Western way of life for the region, yet that "they are barely remembered is pretty sad," Fewkes said.
The first-time author already has a list of some others he'd like to write about for a possible second book.
"If this book sells enough to pay for itself, I will write a sequel," Fewkes said. "There were a lot of people left out of this book that I thought of later."
You can get to know Fewkes better at a book signing 1-3 p.m. Dec. 7 at Hidden Treasures, 31574 U.S. Highway 97, Tonasket.
Al Camp is the sports editor for The Chronicle. Email him at sports@omakchronicle.com.