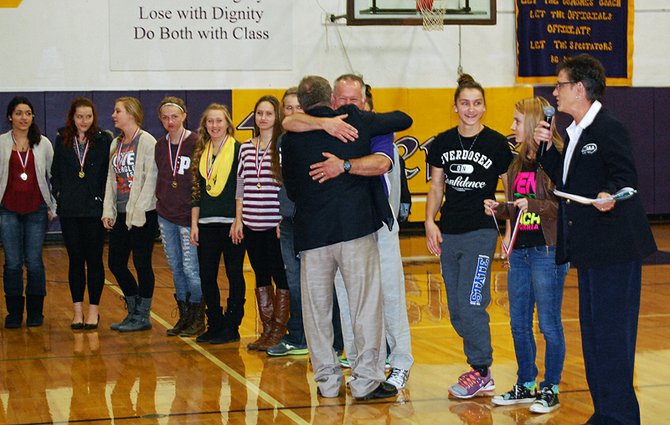 Photo by Jennifer Marshall
Pateros volleyball coach Gene Dowers receives a hug after his team, in the background, was presented the Washington Interscholastic Activities Association Sportsmanship Award on Tuesday morning on the Nannies' home court.
PATEROS — Following a fifth-place finish at the state 1B volleyball tournament Nov. 16 in the SunDome, the Pateros Nannies have received a nod from the Washington Interscholastic Activities Association for sportsmanship to go with their trophy.
"I do want to say congratulations to the Pateros volleyball team for their success at state a couple weeks ago," said Cindy Adsit, assistant executive director of the Washington Interscholastic Activities Association.
Adsit, WIAA Athletic Director Mike Ottis and sportsmanship mascot Sporty all visited the high school Tuesday morning to give each member of the team a sportsmanship medal and present the fifth-place trophy in front of their peers.
"You can see a lot of community pride, especially once you get into the city limits," Adsit said.
Players Ashton Steggall and EmmaLee Luft were called up first to represent the team. Adsit said they had received two awards, and asked the girls to select a fellow student from the audience to give the second award to. They chose Keira Moore.