I like bacon, but I can't say I'm obsessed with it.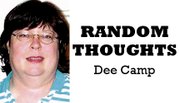 Unlike some chefs or crazy foodies, I would never have the image of a pig or "I heart bacon" tattooed on my ankle (or any other body part, for that matter). I've never tried chocolate-covered bacon, nor have I gone hog wild with the stuff the way the crazies do on Epic Meal Time videos.
The smell of bacon is a wondrous thing, yet I wouldn't want to wear it. Along about 3 in the afternoon, after we've made bacon for a Sunday morning breakfast, I get a little tired of the bacon-y aroma permeating everything in the house.
Along the same lines, I like candy canes and am somewhat of a purist. Peppermint, red and white stripes only, please. You can have those fruit-flavored, multi-colored atrocities.
Apparently some people never tire of the smoky, fatty, meaty odor of bacon and have no qualms with further experimentation in the candy cane field.
Enter "Power Bacon" deodorant and sriracha candy canes.
A few days ago, an ad – disguised as a news release – plopped into my email inbox.
The bacon-scented deodorant (odorant?) is for "when you sweat like a pig," the release snorted.
"Designed specifically for people with active lifestyles (it) provides 24 hours of bacon scent," the announcement continued. "For all-day meat-scented protection, apply liberally to underarms or private areas."
Really? Ugh.
The stuff targets men who want to smell "incr-edibly-y awesome." Uh-huh.
The candy canes, laced with that incredibly spicy-hot condiment from Thailand, are "great for tricking your unsuspecting friends (and children) or enjoying after a tasty bento box," the announcement said.
Serving suggestions include crushing them and sprinkling the shards on ice cream or using them as holiday cocktail stirrers.
No thanks.
I'd rather receive a fruitcake.
Dee Camp is a reporter at The Chronicle. She can be reached via email at dcamp@omakchronicle.com.