I was roaming the web when I noticed that Sam Thomsen, a sophomore at Liberty Bell High School, wrote a guest column for The Seattle Times.
Thomsen's column was titled "Crazy? Why the Mariners should sign Robinson Cano now."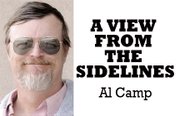 "He has been following the Mariners since he could walk and came up with an outside-the-box plan to rescue the M's and save General Manager Jack Zduriencik's job," the lead to the posting on The Times blog said.
The entry starts:
"Hello, everyone, welcome to a brand new edition of Sports Center. I'm Neil Everett. We open the show with some shocking news out of Major League Baseball: The Seattle Mariners have signed top-shelf free-agent Robinson Cano to a 10-year, $300 million contract."
The entry concludes:
"If the Mariners want to break this exasperating pattern and create legitimate postseason hope, the team's best chance begins with signing Cano."
Anyone can send a contribution to The Seattle Times' Take 2 blog by sending original, previously unpublished work or proposal to Sports Editor Don Shelton at dshelton@seattletimes.com.
Brewster's Chandler Smith recently signed to play for University of Nebraska next year.
I mentioned it in my column last Wednesday after learning of the signing.
Smith was the state 1A Player of the Year last year while playing for the Bears, which easily sliced through competition for the state championship.
She picked the Cornhuskers over Gonzaga, Baylor and Arizona State, another newspaper reported.
Phone messages left with Smith and coach Roger Boesel were not returned.
Smith plans to major in agriculture and business. A check found the closer-to-home Gonzaga does not offer such a major.
ESPN rated Nebraska's incoming class prior to Smith signing as 16th best in the nation.
The Cornhuskers reached the round of 16 in last year's NCAA tournament.
Nebraska (3-0) was ranked No. 11 in a recent Associated Press poll.
ESPN ranked Smith No. 18 in the country as a wing and No. 62 overall.
Smith averaged last year 21.3 points, 9.2 rebounds, 6.9 assists and 4.2 steals, according to school statistics.
Nebraska coach Connie Yori said Chandler will thrive in the Cornhuskers' offensive system.
"Chandler is a great passer, both in transition and half court," Yori said in a press release.
"She is a good 3-point shooter and can hit the dribble jumper," the coach said. "She is smart, competitive, has great length and size on the perimeter and is a savvy player. Chandler is a mature young lady and a great student."
Francis Marchand of Omak finished third in saddle bronc average and 11th in bareback average at the Indian National Finals Rodeo on Nov. 4-9 in Las Vegas, Nev.
Marchand finished with 222 points in saddle bronc (the winner had 276 points) and 194 points in bareback.
Marchand is a graduate of Omak High School and is on the Mesalands Community College's rodeo team, where he qualified for the College National Finals Rodeo three years straight.
This summer Marchand won the saddle bronc title and was fifth in barebacks at the Flathead River Indian Tour Rodeo in Polson, Mont.
A photo of a 400-pound running back from White Swan by Brad Skiff of Bridgeport appears to have gone viral.
The photo of White Swan's 6-4 Tony Picard by Skiff, who draws The Chronicle's weekly political cartoon and teaches at Bridgeport High School, has popped up on many national news pages including Yahoo news and MSN news.
The photograph also has appeared on ESPN and Deadspin.
A traveling basketball team from Australia will take on Okanogan High School next Wednesday.
The girls play at 6 p.m. followed by the boys around 7:30 p.m.
"They have quite a few younger kids, so we will start our regular starters but probably a lot of our second team kids with a couple junior varsity players," Okanogan boys coach Mike Carlquist said.
Fishing reports on Lake Rufus Woods indicate walleye and triploid trout are being taken.
The Colville Tribe released 69,000 triploids with clipped adipose fins this summer. The fish are expected to be about 3 pounds now.
The tribes hatchery in Bridgeport also planted 1,500 triploids weighing 3 pounds in Buffalo Lake, which has a special winter fishery Jan. 1 through March 15 that requires a winter fishing permit.
Triploids were also planted in Twin Lakes, Rufus Woods, Borgeau, LaFleur, Little Goose and Nicolas Lakes, Resident Hatchery Manager Jill Phillips said
For the bench shooters among us, the Saturday night rifle shoots have been suspended for this coming weekend, organizer Ralph Malone said.
"They will resume shooting on Dec. 7," he said.
Shooting starts at 5 p.m. at the Omak Fish and Game Club, 26 old Riverside Highway.
"If you don't have a suitable gun, they will be happy to loan you one so you can try this very precise game," Malone said. "Best to bring some higher quality ammo to participate in this event."
The state Department of Fish and Wildlife will accept grant applications starting Dec. 1 for volunteer projects that benefit fish and wildlife.
The department expects about $258,000 will be available for grants, funded through the state's Aquatic Land Enhancement Account beginning July 1, 2014.
Five major types of projects are funded through the program, although others may be considered. These project types include habitat restoration, scientific research, public education, facility development and artificial fish production.
A turkey shoot is planned for 10:30 a.m. Saturday at the Coyote Falls Sporting Clays, 27819 Union Valley Road N., Almira.
"This is a great place to shoot," said Bernard F. Brown, Senior Regional Director for Washington State's Ducks Unlimited. "Tricky targets and good people."
The vent is a 100-bird fun shoot with Lewis class winners getting a turkey.
Practice opens at 9:30 a.m.
There will be a lunch available.
Al Camp is the sports editor for
The Chronicle. Email him at sports@omakchronicle.com.