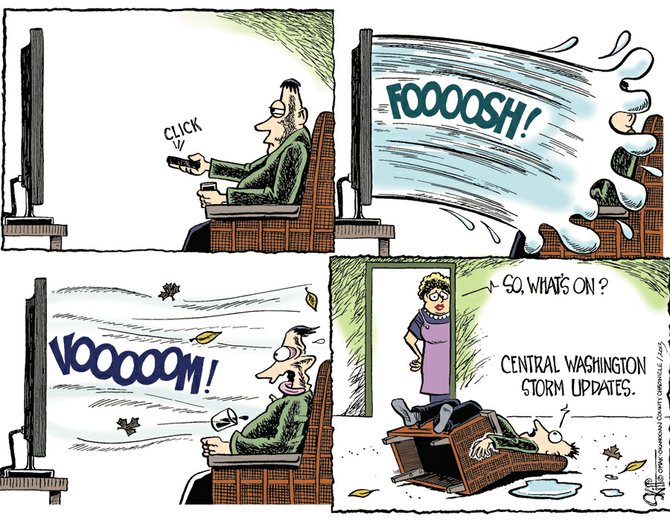 Dansel supports property rights
In a rural area such as the 7th Legislative District, property rights are of the utmost importance. It is due to this fact that I am supporting senate candidate Brian Dansel, whom I feel is most qualified to deal with this issue. Brian has a proven track record when it comes to protecting private property.

He and his fellow Ferry County commissioners adopted a more defendable county comprehensive plan and critical areas ordinance that provided more defense for private property rights. This is unusual because many counties end up losing property rights through the comprehensive plan process.
In addition, having this defendable plan and critical areas ordinance allowed Ferry County to win its lawsuit against Futurewise in Superior Court — a huge victory for any county. Brian strongly opposes the Growth Management Act and has publicly stated that one of his objectives while in office is to eliminate Growth Management Act and the Growth Management Act Hearings Board. As a Growth Management Act county, Ferry has lost usable land due to increased setbacks, spent almost a million dollars to fight lawsuits against special interest groups, and much-needed tax revenue has disappeared. Brian Dansel understands property rights and his experience as a county commissioner will serve him well as a state senator.
Please join me in voting for Brian this November.
Glen Thompson
Kettle Falls
Voters did not elect Smith for position
On Nov. 5, voters will choose between Brian Dansel and John Smith to represent them in the state Senate. Mr. Smith's campaign posters ask you to retain him in that position. If you are not knowledgeable about how Mr. Smith secured that position, you might think he was elected by the voters. This is not true. Mr. Smith was placed in that position by the powers that be in the Republican party. Mr. Dansel, however, was elected to his position as county commissioner in a landslide vote of the people.
Brian has shown himself to be an outstanding county commissioner. He has dealt with budgets, roads, and law enforcement, along with many other citizen concerns. Brian's campaign has not consisted of distributing a mountain of expensive propaganda. He has never made negative comments concerning his opponent. Those concerns have been voiced by other sources. He has conducted a door-to-door campaign to attempt to meet voters and listen to their concerns, not to promote a party agenda. Brian is a strong supporter for our schools and veterans. He has been criticized for being young and ambitious. I find it refreshing to see such ambition and dedication in today's younger generation.
I am not a person who puts much value in smear campaigning. I don't know what John Smith's racial views are. However, here on the reservation, I have not encountered so much as one John Smith campaign poster. I do wonder why.
The 7th District deserves the best person as its senator. I know Brian is that person.
Robert L. Heath
Inchelium
Most countries require labeling
A genetically engineered organism is called "GMO" or "GE" and its cells have been penetrated and its DNA has been altered. If it is for consumption it is called "biotech food."
"Monsanto should not have to vouchsafe the safety of biotech food. Our interest is in selling as much of it as possible. Assuring its safety is the FDA's job," Philip Angell, Monsanto's director of corporate communications, said in an Oct. 25, 1998 story in New York Times Magazine.
"Ultimately, it is the food producer who is responsible for assuring safety," the FDA said in "Statement of Policy: Foods Derived from New Plant Varieties," published in 1992.
Most modern countries require food labeling for biotech content in foods. Only the U.S. and Canada do not. The U.S. federal government co-owns patents on biotech engineering including U.S. patent 5,723,765 which is the "terminator" gene that forces a plant to produce sterile seeds. If a neighbor's cow gets out and destroys your garden, the neighbor is liable for damages. If a patented plant gets out and mixes with your crop (out-crossing), you are liable for possessing unlicensed patented plants in your crop and you will be sued and pay damages by the entity that owns the patent. You will also be forced to destroy any seed you have saved from that crop. If food, guns, and health are under the control of government and powerful corporate interests, citizens and family owned farmers and ranchers become serfs.
Consider initiative I-522.
Bill Huhn
Okanogan
Prayers sent out for peace in Syria
Should the U.S. intervene with a military attack on Syria for allegedly using poison gas that killed 2,500 of its own people? Syria is embroiled in a civil war. President Assad is defending the people from a rebellion. What is the reason for the war?
The president-elect leads the Baathist political party, which is a collation of Muslims of all beliefs, radical or conservative, and includes Christians, Syriac Catholics, which dates from the time of Christ, and others. The rebel party is a radical party that believes in Sharia law, which means there is no peaceful coexistence. There are three choices: convert to Islam, be executed or pay a sum of money and become a slave.
The Baathist party is a secular party, but with strong Islamic beliefs, the same as Saddam Hussein in Iraq, who was ruthless, as is Assad.
So Muslims are fighting Muslims with each side willing to genocide the Catholics, some of which fled Iraq. They are caught in the middle. American journalists in Syria say it is unlikely Assad used poison gas because he is winning, so there would be no point. Another Syrian mentioned that many things are staged with the use of a camera.
The Syriac bishops and others in the region are begging President Obama not to do a military intervention. Pope Francis called for a day of prayer and fasting Sept. 7 for all Catholics and others of good will for peace in the world and no military attack on Syria. Ten thousand people joined Pope Francis in St. Peter's Square for hours. I for one joined him here in Omak.
God can figure out what to do. We think we can, but we can't.
Alfred N. Bosco
Omak
Constitution stands the test
Last week, Rep. Doc Hastings wrote about the U.S. Constitution in honor of its many birthdays. I do think a very important quality of the Constitution was overlooked in his commentary — its adaptability.
The Constitution has endured over 200 years of political and social changes, because the authors of this country's by-laws saw their own limitations and had a glimpse toward the future. They so well knew that such a unifying and unique document could only stand the test of time if it was flexible and open to change. They built into the Constitution two ways for it to be modified. They couldn't predict the future, but recognized that it would be different than their times and they document had to have the ability to weather change.
So, since then we now have amendments (26 in all). Sixteen amendments beyond the first 10 found in the Bill of Rights. Among these changes to our Constitution: direct election of senators, black people cannot be held in bondage, nor be deprived the right to vote, women have the right to vote, as do 18-year-olds.
The Constitution was designed to be adaptable. That is the success to its endurance. The future will surely bring debate (and maybe additional modifications) over the first amendment freedom of speech versus protection of children and the Internet, the mass shootings of innocent Americans versus the second amendment's right to keep and bear arms, the health of the people versus the ninth amendment's rights retained by the people. What other issues are out there?
The document will stand the test of time as issues of passion are debated, compromised and changed. Let us continue "to form a more perfect union."
Larry Witt
Omak
Smith supporters cover broad area
Many recent letters to the editor are replete with disinformation and personal attacks against Sen. John Smith. His detractors have stirred up a recipe containing a pinch of truth, a cup of disinformation, cup of exaggeration and two cups of self-serving interests.

One theme pontificates that the Senate election is bought by outside interests including Seattle and out-of-state PACs. The facts show otherwise.
The PDC shows John Smith has received 393 contributions. Seventy-five percent (293) came from within the 7th Legislative District, 20 percent from other counties within Washington and only 5 percent (19 contributions) from out of state. Sen. Smith has raised $88,000.
His opponent has raised only $13,810 from 90 contributions. Seventy percent (63) came from Ferry County, the smallest county in the district. Other contributions came from Spokane County (8), Stevens (16) and three from areas outside the 7th District. His single PAC contribution is from the Washington Education Association labor PAC. The WEA contribution and the endorsement of the Pend Oreille County Labor Coalition provide an interesting contrast to his conservative rhetoric.

Unlike his opponent, Sen. Smith has received contributions and support from a broad geographic area and base of citizens, businesses and PACs associated with farming, agriculture, timber, mining, transportation, fishing, energy, medical, hospitals, dental, firefighters, realtors and many others. They contribute as I do because they are impressed and appreciate the initiatives and votes of Sen. John Smith.

Grant Peterson
Chewelah
Tell utility district how you feel
I rushed to Okanogan PUD headquarters last Tuesday to share my ongoing concerns about the utility's plan for a powerhouse on the Similkameen River at Enloe Dam. I was there representing residents, ratepayers, businesses, fishermen, fisherwomen, hikers and summer residents, all who love the Similkameen, recognizing her beauty and value.
We stand in shock and disbelief as this PUD, with no public support, or demonstrated necessity, plans to turn our most sacred, special place on our scenic river into an industrial site. The river is home to threatened Chinook salmon, endangered Upper Columbia steelhead and a variety of wildlife needing our protection. The $5.4 million budgeted for Enloe Dam in 2014 shows their intentions.

Last year, an independent study by Rocky Mountain Econometrics showed the project will lose $26 dollars for every megawatt-hour generated. It will not cover the cost of its $40 million dollar construction, operations, or pay back interest on the PUD's growing debts, now at $38 million.
It will seriously harm tourism and outdoor recreation opportunities created by the Similkameen River Trail and greater Pacific Northwest National Scenic Trail through the project area. Large contractors will profit from construction, as will brokers, bond sellers and fat cat investors on Wall Street, but they won't spend much money around here. Only a handful of local jobs will be created. The powerhouse will provide less than half of Oroville's electric demand and only 5 percent of Okanogan County's demand. The costs clearly outweigh the benefits. Let the PUD know your views. Write, call or email. Attend a PUD meeting and make a comment on spending for 2014.
Like Harry Truman was fond of saying "Give 'em Hell!"
Joseph Enzensperger

Oroville
Letters to the editor policy
The Chronicle accepts letters to the editor of 250 words or less. Letters must bear the signature and hometown of the writer and a daytime telephone number.


Letters with multiple signatures or sent to multiple publications will not be considered. Letters may not include personal attacks or thank you messages. Letters are subject to editing. Publication does not imply agreement or endorsement by The Chronicle. Letters may be mailed to The Omak-Okanogan County Chronicle, Attn. : Letter to the Editor, P.O. Box 553, Omak, WA 98841; dropped off at The Chronicle office, 618 Okoma Drive, Omak; faxed to 509-826-5819, or e-mailed to news@omak chronicle.com.