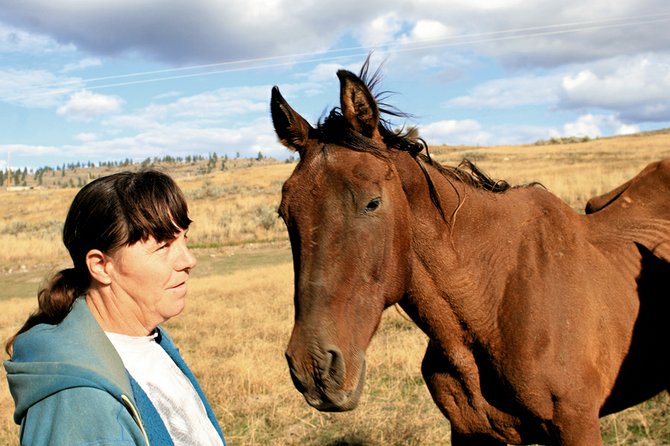 Photo by Garrett Rudolph
Janice Andrew checks on Bucky, one of the rescued horses currently living at The Nourishing Hand east of Tonasket. Bucky was a "skeleton with skin" when the animal shelter took him in about three months ago, Andrew said.
OROVILLE — With winter fast approaching, a local non-profit horse rescue shelter is getting desperate to stockpile enough hay for the season.
The Nourishing Hand will need approximately 50 tons of hay to feed nearly two dozen rescued horses and cattle for the winter, owner Janice Andrew said.
"We need help with the hay or we're just not going to be able to help any more animals," she said. "These guys have got to eat, so they come before anything."
The Nourishing Hand, 112 Roundup Road, is home to 20 rescued horses and a pair of rescued Irish Dexters, as well as an assortment of dogs and goats. Walmart donates a great deal of dog food to the 501(c)3 non-profit, and during the summer, the animals can live off grass on the 400 acres of land southeast of Oroville.
Since opening the shelter in 2010, Andrew has always relied on donations of hay during the winter. The community came through for her in the past few years. However, one of her regular donors died and another lost his field.
"So now we're back to square one again," Andrew said.

There is hope, though, for reducing, or taking better care of neglected animals in Okanogan County.
Andrew and other animal shelters have been working hand-in-hand with the Okanogan County Sheriff's Office since it began a pilot program for animal control in June.
In the past, deputies had been handling an average of 700-800 animal calls a year, ranging from nuisance calls, such as animals at large and barking dogs, to more serious complaints such as animal abuse, animal cruelty and wildlife issues.
With different deputies constantly responding to animal control calls, "there was no consistency" from the Sheriff's Office, Sheriff Frank Rogers said. At times, the operation was "helter-skelter."
Deputy Dave Yarnell took over the animal control duties, freeing other deputies to work their cases, and providing consistency that had been lacking from animal situations.
"Right now, we're very happy" with the results, Rogers said. "It's been nothing but positive."
The shift was initially set up as a pilot program, but barring an economic crisis, Rogers said the Sheriff's Office will continue employing a designated animal control officer.
"It has really taken the burden off of deputies," Sheriff Frank Rogers said.
The county had a need for a designated animal control officer, Rogers and Andrew said.
It seemed many people believed they could get away with animal neglect and abuse, Andrew said.
"Now, it's finally getting cracked down on," she said. "That's the positive side."
Some of the animals that end up at the Nourishing Hand show signs of severe neglect in their recent past. Andrew points to a pair of older horses — J.J. and Bucky, she calls them — that came in about three months ago.
She has been feeding the horses a special diet to put horses a special diet to put weight back on their bony frames. Ribcages are still exposed through reddish-brown fur, but Andrew said those two horses look significantly better than they did when they first showed up at the shelter.
"It was like a skeleton with skin," she said.
Most horses take six months to a year to recuperate fully, Andrew said. The older ones tend to bounce back a bit slower than the younger ones.
The Nourishing Hand grew out of a love for animals, Andrew said.
She said the organization's first rescue was a litter of puppies. Her husband, Dave, kept one of the puppies for himself.
"Somebody breaks the ribs on a four-week old puppy (is) not a human being in my book," he said.
"They were covered in feces, you couldn't even tell what color they were," Janice Andrew said. "We took them home, cleaned them up. He kept one."
They also have seven horses of their own, but they don't feed those animals with donated hay, she said.
All animals taken in by The Nourishing Hand are quarantined for 30 days. Then they go through vet checks and get the necessary shots before eventually being put up for adoption.
"We've had a really good turnout finding homes for these guys," she said.
But Andrew is getting worried that snow is just around the corner.
She's watched the price of hay rise steadily in the past few years, compounding the need for donations.
At an estimated $220 a ton, The Nourishing Hand need more than $10,000 worth of hay for the winter.
"I don't want to put them down, but if we can't get enough hay, that's what has to be done," she said.