Lee Morrison of Okanogan leaves next week for a Mixed Martial Arts fight in Russia.
Flying is nothing new for Morrison, but a professional fight in Russia certainly is.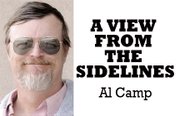 "We flew hundreds of times when I was doing college wrestling," Morrison said.
He wrestled for North Idaho College in Coeur d'Alene, Idaho, and Menlo College in Menlo, Calif.
"And fighting around the U.S., I've flown tons of times for that, too," Morrison said.
Morrison departs Oct. 16 and will be gone for 10 days.
Morrison, 28, is 12-2 professionally. He hasn't lost for three years at featherweight (145 pounds). His losses came at 155 pounds.
His opponent is a 32-year-old foe, who is 28-9.
"He's been fighting for a while for sure," Morrison said.
The featherweight fight will be one of the last fights on the card, promoted by M-1 Global.
"M-1 Global is the second biggest promoter in the world, right under UFC," Morrison said. "It's an international promoter, so you don't hear as much about it."
Morrison has been training two or three times a day for six weeks in Spokane.
"It's definitely an accomplishment in my career," Morrison said of the fight. "At this point in my career, I need to be in bigger and better organizations. Travel to another country, I would never see that otherwise."
There is some incentive to get the fight done, with a win, so Morrison can return to Okanogan.
"My fiancee (Sarah Dykes) is back home, getting ready for our marriage," he said. "I fly back on a Wednesday, there is a bachelor party Saturday and we get married the weekend after that (Nov. 2)."
Before he leaves, Morrison was sweating taking a three-hour endorsement test that would allow him to receive his master's degree.
He plans to substitute teach in the Omak and Okanogan area while also being a paid assistant on the Bulldogs wrestling team.
Shane Proctor, formerly of Grand Coulee and now living in Mooresville, North Carolina, is resting a left shoulder prior to competing in the Professional Bull Riders World Finals on Oct. 23-27 in Las Vegas, Nev.
Proctor, who won at Winston-Salem, N.C., and Anaheim, Calif., earlier this season, is ranked ninth in the world.
He bypassed four events in the past few weeks on the PBR's Built Ford Tough Series.
Proctor is the brother-in-law of another Mooresville rider, J.B. Mauney, who is the No. 2-ranked competitor in the world.
Injuries are not new to Proctor, who got his left arm badly stomped and broken above the elbow on his final ride while winning the bullriding title at the Professional Rodeo Cowboys Association Finals in 2011.
Earlier in 2011 he suffered a groin injury that knocked him out of the PBR World Finals after two rounds.
The arm surgery caused Proctor to miss nine events in the 2012 PBR season.
A week into September, Proctor opted to rest the shoulder.
"It came out on me in Boise earlier this year, but just in the last month and a half, it's kind of become a major issue," he told the Fayetteville Observer newspaper. "The joint got loosened up, and once that starts happening, it makes it a lot easier for it to come out.
Proctor conferred about his shoulder issue with a PBR doctor and an orthopedic surgeon, and concluded he'd rest the shoulder since he was assured a berth in Las Vegas.
"I know I wasn't riding at 100 percent. I kept checking on the points and when I figured I really didn't have a shot at making the comeback like I wanted, it was best to heal up 'til the finals," he said.
"My goal is to win the finals and to do that you need to be at 100 percent. We're not the smartest of creatures, but sometimes we try to make smart decisions."
The public is welcome to use the Omak Community Center, interim Wellness Center Coordinator Sonny Sellars said.
Hours are 7 a.m. to 9 p.m. Monday through Thursday, 7 a.m. to 6 p.m. Friday and 10 a.m. to 4 p.m. Saturday.
Women's basketball is 6:30 to 9 p.m. Monday and Thursday.
Men's basketball is 6:30-9 p.m. Tuesday and Wednesday.
Family movie night is 7-9 p.m. Fridays.
Speaking of the Community Center, it is joining forces with Omak High School and Paschal Sherman Indian School for the inaugural Omak Battleground Basketball Tournament set for Oct. 18-20 at the center.
Planning is still being done for the 5-on-5 tournament that is expect5ed to draw up to 16 teams.
I have heard that many of Eastern Washington's best players are sending teams. There might even be a popular red-haired player coming to play, organizers Jeremiah Riggle and Braden Draggoo said.
"Jeremiah has a Facebook page dedicated to it," Sellars said.
Those wishing to bring a team can contact Riggle either by phone at 509-557-2322 or by email at Jrok-17@hotmail.com.
The Chronicle plans to write more on the tournament next Wednesday.
Al Camp is the sports editor for The Chronicle. Email him at sports@omakchronicle.com.