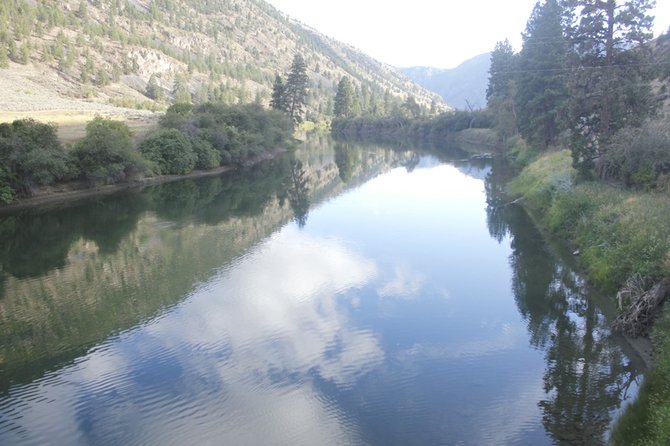 Photo by Roger Harnack
The State Department of Ecology investigated the Similkimeen River near Nighthawk for signs of an Aug. 24 coal spill north of the Canadian border. Photo by Roger Harnack.
PRINCETON, B.C. — The Regional District Okanagan Similkameen Board is recommending the provincial government consider implementing British Columbia Emergency Response System protocols for all ministries.
The recommendation stemmed from concerns over the way the Coalmont Energy Corp. tailings spill in the Coalmont/Tulameen area was handled.
District Emergency Services Supervisor Dale Kronebusch said a water filter press malfunctioned Aug. 24 at the Basin Coal Mine. Kronebusch said the spill had potential to be an international incident because the Similkameen crosses the border.
Officials said a considerable amount of time elapsed from when the spill happened to when the provincial government was notified.
Slurry spilled into a secondary containment pond, which then was breached. The slurry spilled into the Tulameen River, which is a tributary of the Similkameen River.
The Similkameen crosses into the U.S. near Nighthawk and eventually flows into the Okanogan River near Oroville.
The company said it contacted and advised the Ministry of Energy and Mines immediately, but the Ministry of Environment was not contacted for 24 hours and Interior Health and the regional district were not contacted for more than 36 hours after the incident.
Coalmont Energy Corp., which operates the mine, has provided numerous updates since the incident, describing steps being taken to remedy the situation and hosting a public meeting.
Sample data retrieved near Nighthawk by Department of Ecology investigators showed coal spill did not affect water quality of the Similkameen River, Ecology spokeswoman Brook Beeler said.