Most people when they turn 18 think of high school graduation, attending college, getting a job or at least a celebratory dinner.
Not so for the granddaughter of Okanogan's Larry and Joanne Talmadge.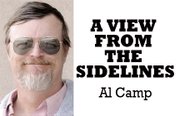 When Tayleigh Talmadge of Anchorage, Alaska, turned 18, she reminded Larry of his promise that they would both go skydiving.
When reminded of his promise, Larry said, "Yeah, yeah! And she held me to it."
Now, everyone would excuse Larry for not keeping his promise.
Larry turns 80 in March and could easily be excused for not wanting to step out of a plane, even in a tandem (two-person) jump.
But Larry kept his promise Sept. 14 in Snohomish.
"It was just a great experience for me to jump with my granddaughter," Larry said.
A daunting leap of faith for most of us comes naturally to Larry, who started skydiving in 1957 in, you got it, Snohomish.
So when he leaped out of the plane at 13,000 feet, it was his 109th skydive.
"Usually they take you up to 11,000 feet," he said. "This day they took us up to 13,000 feet. That's an extra 10 seconds of free fall."
Accompanying the jumpers during the jump, about a minute and 20 seconds of free fall, were special teddy bears. They would be donated along with a short message to the Canopies for Kids project. The bears will be donated to Northwest Children's Hospital.
Tayleigh, who attends Service High School in Alaska, is the daughter of Darren Talmadge, who is a captain with Atlas Airlines.
The entourage at the air field included Omak residents Darren and Jeff Talmadge, who is a captain at World Airlines, along with Jeff's daughter, Julie Daigneau, and Larry's wife of 56 years, Joanne.
"I met Joanne in Snohomish in 1957," he said. "She kept the books at the airport for the planes and gasoline."
Larry said he was looking up for a parachutist when he heard Joanne ask if he'd like some binoculars, which she had at home.
"I turned around and there she was. That's how I met her. We went to get the binoculars."
Both pilots flew bush in Alaska before being hired by a major airline.
Jeff Talmadge kicked Omak's winning extra point to win against Langley (7-6) in the 1979 state championship. He later shined as the kicker for the University of Washington.
Jeff's son, Cameron Daigneau, plans to kick for Omak next year.
When the sophomore turns 18, he said, "I'm going to go skydiving with grandpa. I've gone. My cousins said it's pretty fun."
You can view a video of Tayleigh's jump at http://www.youtube.com/watch?v=2HHR9cc-k3w and Larry's jump at http://www.youtube.com/watch?v=JvtN54aBosQ.