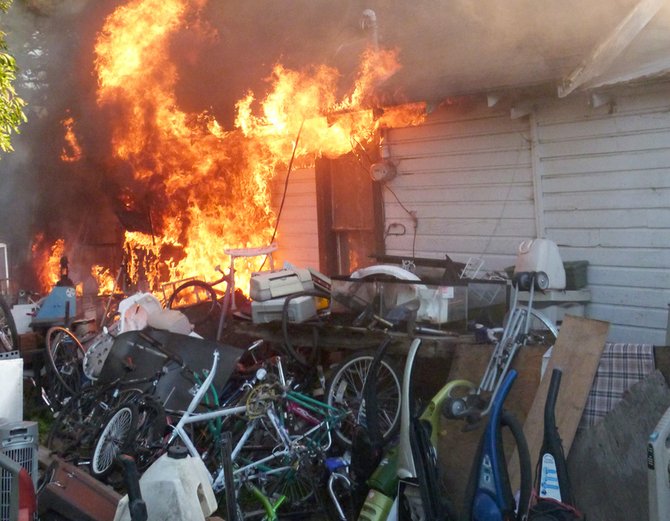 Photo by Al Camp
Flames engulf the side of a house at 414 Benton St. in Omak on Monday. Firefighters had to work their way through and around piles of clutter outside and inside the house.
OMAK — A local couple was transported to Harborview Medical Center in Seattle after suffering burns from a house fire late Monday afternoon.
Ronald Gilge, 46, and his wife, Cindy, were burned and treated for smoke inhalation. They were first taken to Mid-Valley Hospital, then transported to Harborview Medical Center in Seattle.
Both were home when the fire started around 4:47 p.m. at 414 Benton St.
A spokeswoman at Harborview could not find the Gilges on their list of patients.
Omak Fire Department Chief Kevin Bowling said the house was supposed to be abandoned.
Fire officials have not determined the cause of the fire.
One firefighter suffered smoke inhalation and dehydration, but he was treated and released from Mid-Valley Hospital and is "fine," Bowling said. He declined to release the firefighter's name.
Because of the amount of damage and rubble, Bowling said, the house is considered a "total loss" and there won't be an investigation.
The outside of the house was cluttered with vehicles and other odds and ends, and Bowling said firefighters were faced with the same challenge once they fought their way inside.
"It was plumb full of stuff from floor to ceiling in every single room," Bowling said.
At first, the firefighters couldn't get inside the house. The rubble created a significant challenge for the firefighters.
"When the firefighters got here, they were throwing junk out of the way" to get inside, neighbor Lois Perez said.
"I walked outside and saw a big old ball of smoke," Perez said as she watched flames leap from the roof, nearly an hour after the fire began. "I wanted to see if I could help my neighbors."
Perez, a nurse's aide, said she spoke to Ronald Gilge after he emerged from the house, the front of his hair singed and his legs burned.
He had been outside helping someone find car parts, he told Perez, and Cindy Gilge was raking leaves. She went inside and came running back out screaming for her husband, Perez said.
Ronald Gilge went back inside to rescue his dogs and cats, she said.
"I feel really bad for the people," Perez said. She said the Gilges collect and sell scrap metal and car parts, and some people had complained of the clutter surrounding the house.
While Perez said the Gilges were in the process of packing and getting ready to move, the homeowner told a different story.
Jake Atkins of Omak said the Gilges were squatters, meaning they did not pay rent or sign a lease to live there.
He had been trying to evict them since May, he said, and the final hearing was scheduled for Oct. 21.
"There was no running water of any kind," he said as he stood across the street, watching the house burn. "It's a good thing I'm not homeless."
He said he was almost happy to hear about the fire because of the trouble he has had with the house.
Someone had offered to renovate the home years ago, but never followed through. The house remained vacant, except for a string of squatters.
Atkins said the house, built in the late 1930s or early '40s, once belonged to his parents.
"I just feel pretty bad," he said. "I feel like I lost part of me. This was something to remember my folks by."
It was not insured. The Okanogan County Assessor's Office said the assessed value of the house was around $21,100.
The last firefighters finally cleared the scene at about 10 p.m.
"This was a very time-consuming, very physically demanding job," Bowling said.
Eighteen firefighters responded from the Omak Fire Department. Assistance came from Okanogan County Fire District No. 3, which sent an engine with six firefighters, Omak Police Department, LifeLine Ambulance; Colville Tribal Police and the Washington State Patrol.