Dan Groom recently was named the Republic High School boys basketball coach.
Groom, 41, is a graduate of Dayton High School. He's coached basketball for seven years while teaching Spanish, history and journalism. Most recently he coach junior high volleyball at Republic.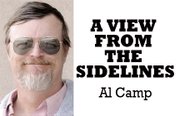 His coaching experience includes a year as varsity girls coach at Adrian, Ore., a year as the junior varsity boys coach at Stevenson, a 2A school, and five years as the junior high boys coach at Waitsburg-Prescott in the 2B ranks.
He taught Spanish, history and film production at Waitsburg-Prescott.
"I suffered through to two layoffs at Waitsburg due to poor economy, budget cuts and declining enrollment," he said. "I worked there for a total of four of the last six years."
The two off years he was a substitute teacher, coached and worked as a sports reporter and features reporter for the Walla Walla Union-Bulletin and later the Times of Waitsburg.
Groom likes a free-flowing offense.
"I'm as comfortable facing a zone defense as I am a man," he said. "I find presses have higher risks than returns, as they are generally pretty easy to break if you have even halfway decent personnel. Rebounding is paramount to me.
"Basketball is very much a thinking game, though it's also an effort game," Groom said. "The team that wants it more while keeping its head about it, will win more often than not."
Groom enjoys teaching at smaller schools, where "want to" and discipline can make up for larger talent gaps than they can at large schools."
Although Groom did not play college varsity basketball (he did play intramurals), he was a senior and post for Dayton when it tied for first in its league.
He regularly attended the state B tournament in Spokane, although Dayton never made it to the arena.
"It has always been my dream to get there," he said. "I'm glad the 1Bs are back in Spokane and out of lifeless Yakima."
Groom played for Jay Webber at Dayton. Webber now coaches at North Central High School in Spokane.
"He won a state B championship as a player at Almira/Coulee-Hartline, and as a coach four years after I graduated at Dayton," Groom said. "I am pretty certain he is the only person to both play for a state B champion and coach a state B champion."
At Stevenson, Groom coached under Australian professional player Glen Stump.
"The best advice he gave me was 'Shoot more than anything else you do in practice. You can't win if you can't make baskets.'"
Before becoming a teacher, Groom worked in television after graduating from George Fox University with a communications degree.
"I was the first student to be on-air talent (color commentary for basketball) for George Fox's local cable sports broadcasts," he said. "I made commercials and directed the late newscast at KLEW-TV in Lewiston, Idaho. "
He got his teaching certificate from Washington State University.
When not following basketball, Groom enjoys the Western Hockey League, especially the Tri-City Americans.
"I hate the Spokane Chiefs," he said. "Now that I live up here, I'd love to go up to Kelowna and watch a game. I listen to the Ams whenever I can via the Internet."
uuuuu
The Loup Snowboard Team is having a preseason kickoff meeting at 2 p.m. Sunday, Nov. 3, at the Loup Loup Ski Bowl's ticket office.
The ski hill is 18 miles west of Okanogan off state Highway 20.
"We will go over the team format and what the season looks like," Gene Shull said. "Our focus is on advanced riding skills, freestyle, boarder cross and alpine racing. We teach skills for riding all conditions and how to responsible riders on the mountain."
uuuuu
Kellie Bolger of Oceanside, Calif., and Noleen Read of Cape Town, South Africa, said they reached Manning Park in British Columbia on Wednesday, Oct. 9, to complete their trek north on the Pacific Crest Trail.
The Chronicle carried a story about the hikers, who met on the trail, in the Wednesday, Oct. 9, newspaper.
Snow and federal officials prevented hikers continuing north on the trail.
The government's failure to pass a budget led to closure of state parks, where signs and agents said if hikers continued they would be arrested for trespass.
Many hikers headed east and then north on U.S. Highway 97 in an effort to finish the trek at the end of the trail in the British Columbia park.
"What a great adventure the road walk was," said Hippie Long Stockings, which is Bolder's trail name. "We made it to Canada on Wednesday. We are so happy to have completed our hike. Washington has been great to us. Such wonderful people here. Thank you for telling our story."
uuuuu
The high school bowling team based at Valley Lanes in Omak starts competition Sunday, Oct. 27, with a home match.
The team, coached by Dale Dunckel, competes in the Central Washington Travel League.
The team bowls at East Wenatchee on Nov. 17, Moses Lake on Nov. 24, back to Omak on Dec. 8, to East Wenatchee on Jan. 12 and finishes at Moses Lake on Jan. 26.
The team's goal is to reach the state tournament Feb. 15-16.
uuuuu
If the government shutdown continues into the winter, you can still ski the Loup.
I understand Loup Loup Ski Bowl manager Sandy Liman received a Forest Service letter saying ski areas on federal land would be allowed to operate.
Ski season is close. I recently spotted some snow higher up the Loup.
uuuuu
USA Today has a Massey Matchups game simulator online that that allows you to pit teams against each other and see a theoretical final score.
You can match any two varsity teams against each other in football, boys or girls basketball, baseball or boys or girls lacrosse and find out who is going to win.
For any two selected teams, the computer model estimates the probability that each team would win the game. Team offensive and defensive strengths are matched up to produce an expected outcome.
uuuuu
The Okanogan County Football Officials Association will be sending Larry Gilman and Larry Schreckengast to postseason playoff games this fall.
Gilman's first-ever state game will be the 1B finals.
Schreckengast has been selected to work the state 2B semifinals.
I learned of the honors at the Liberty Bell at Oroville football game.
uuuuu
I noticed an interesting touch at Oroville during its game with Liberty Bell.
There are large signs with big red numbers on each end of the end zone showing the play clock.
Players and officials can easily see the time left for a play.
Oroville also has the only backboards in the area that I know of that light up at the end of a period. This helps officials know if a team scored before a period ended.
uuuuu
Kara Staggs and Caitlyn Behymer at North Idaho College will get their first taste of collegiate basketball during a scrimmage against Lewis-Clark State College at 3:30 p.m. Saturday, Oct. 19, at home in Coeur d'Alene.
Following a game against the North Idaho All Stars on Nov. 2 the team three games Nov. 14-16 in Casper, Wyo.
The regular season runs until Feb. 22. The regional tournament is the following weekend in Ephraim, Utah. The national tournament, where NIC lost its first game last year, is March 17-22 in Salina, Kansas.
Al Camp is the sports editor for The Chronicle. Email him at sports@omakchronicle.com.