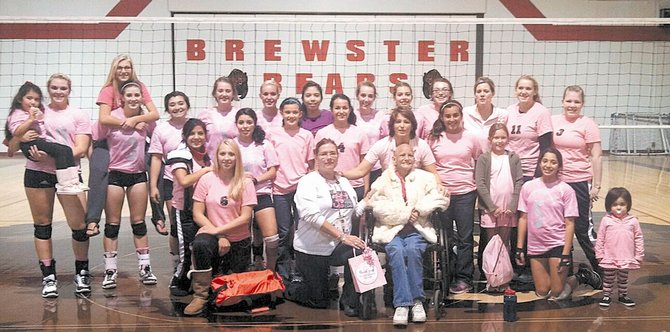 Bob Foyle
The Brewster Bears volleyball team recently participated in a fundraiser for breast cancer awareness, lead by Starr Hammons (pictured sitting). In the white shirt is scorekeeper Ellen Dezellem.
BREWSTER — Brewster High School's annual Breast Cancer Awareness night was put on during the volleyball match with Cashmere on Oct. 10.
Special guest was Starr Hammons, mother of former Brewster volleyball players Holly and Jessie Hammons.
"Starr is currently battling breast cancer," Brewster coach Marcy Boesel said. "Those in attendance donated $453.12. All money will be sent to the Susan G. Komen Foundation.
"Thank you to Brewster Market Place for their donation of cupcakes, and thank you to all in attendance for sharing so generously toward this important cause," Boesel said.