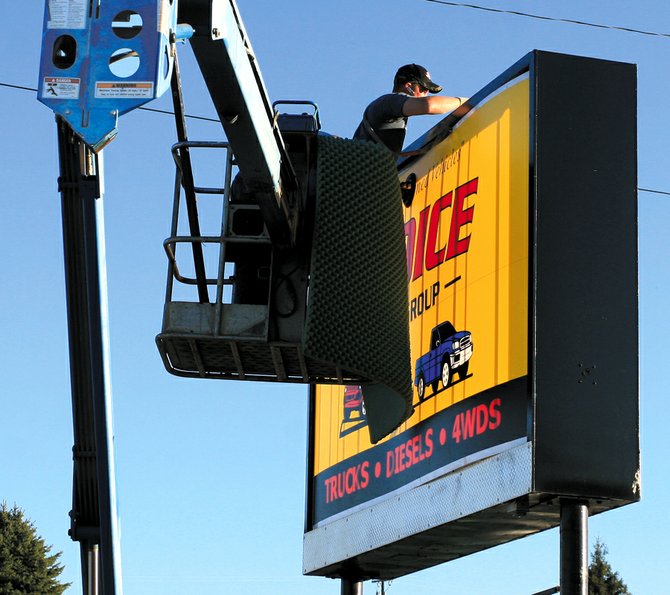 Photo by Garrett Rudolph
Choice Auto Group's lot manager, Leo Baldwin, helps Designer Signs owner Darren Schmidt install the dealership's new signs Oct. 17. Choice Auto's "soft opening" is this week at 625 Okoma Drive in Omak.
OMAK — Choice Auto Group is opening its pre-owned dealership this week, returning to business after more than four years.
"We're bringing back the old company, but with several changes being made," General Manager Nick Martin said. He is also a co-owner along with Mike Kaiser, who owned the dealership at 625 Okoma Drive when it was called Choice Auto and Truck.
Martin said this week's "soft opening" will allow the company to work out any potential kinks in operations or the new computer system, and a grand opening is coming in the next couple months.
This time around, Choice Auto is going to be larger.
"We're basically planning for growth, hence the name Choice Auto Group, because hopefully down the road we'll be expanding, maybe locally and out of the area," Martin said. "This will be the flagship store. This will be the first of many, hopefully."
Two lots, one next to The Chronicle's office at 618 Okoma Drive, are set up to accommodate 125 vehicles eventually.
"We're going to have a wide array of vehicles," Martin said. "We started out buying a lot of late-model, low-mileage vehicles, a lot of stuff that's still under factory warranty. But now we're branching out more and getting vehicles that might have a little higher miles, but a lower price point. We're buying a lot of trucks and SUVs – it's that kind of season – a lot of focusing on all-wheel drive vehicles as well."
Eventually, he said, the dealership plans to offer "some really good quality, low-price vehicles to fit everybody's budget."
In terms of inventory, Choice Auto will offer everything from Chevrolets to Hondas and Toyotas. The dealership is starting out with seven total employees and has a finance department, with plans to sell extended warranties.
Customers, or even people who are curious about bank financing, can schedule a consultation, Martin said.
Choice Auto will also resume its relationship with Choice Automotive and RV, which Kaiser also owned until he sold it to Mike Roberts, separately from the dealership.
Choice Automotive will do warranty work and all inspections and oil changes.
"There's a great line of communication and they're an awesome shop, so we're just going to continue that relationship," Martin said.
Kaiser has been in business a total of about 14 years. He ran Choice Auto and Truck for about eight years before he sold it and moved to Arizona, taking the company name with him to sell muscle cars, Martin said.
Martin is also returning to his roots: He started working in sales for Choice Auto and Truck and by the end of nearly four years there had worked his way up to sales manager.
When Consumer Auto Liquidators bought Kaiser's dealership, Martin for the company as general sales manager and stayed for about a year before moving down the street to Sunrise Chevrolet, 726 Okoma Drive.
"It feels great to be back," Martin said. "I'm looking forward to the good old days. We had a really great thing going here before, as far as we were really involved in the community and we want to continue that…. Our customer service was outstanding; we took care of people and we want to continue doing that."
Martin said sales slowed after the recession hit in 2008, but they've been picking back up.
"It's not a huge growth, but it's slow, steady growth," he said.
He invites people to stop in the office to say hello, "even if you're not looking for a car.
"Stop in for a cup of coffee and visit, see what we've got going on," he said.
The dealership is open from 9 a.m. to 6 p.m. Monday through Friday, and from 10 a.m. to 5 p.m. Saturdays.